Shadow Of Shadow Of The Colossus: Titan Souls Trailer
In the dark of Dark Souls.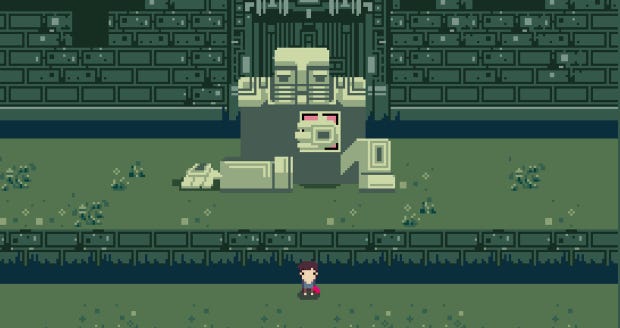 Titan Souls began life as a Ludum Dare entry created in just a couple of days, but the allure of epic, 2D boss fights is strong. The game which Nathan called "Shadow of the Colossus meets Dark Souls" has now expanded into a full game, and there's a new trailer below.
Boss fights get a bad reputation, for the often publisher-enforced rule of stuffing them in games where they don't below. If you make a whole game about boss fights though, there's opportunity for invention on a grand scale. Dark Souls and Shadow of the Colossus are the obvious modern touchstones, and the latter's biggest problem was its camera, which would frequently obscure your ascent up its beautiful beasts. Setting that style - myth and exploration and stone golems - in a 2D world, with simpler combat and jumping mechanics, seems like a swell idea.
Titan Souls is aiming for a Steam release in early 2015.