Tony Hawk's Pro Skater HD cheap before being pulled
Wipeout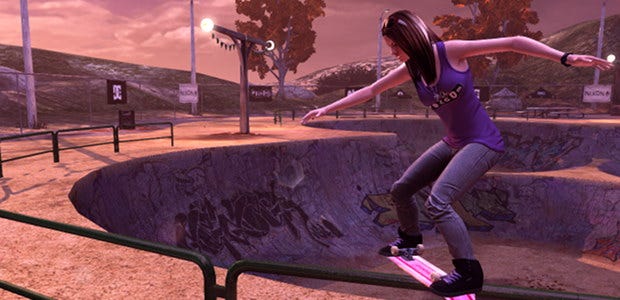 For PCpeeps who wish to thrash hard, shred it to the max, sk8 rather than die, and gleam the cube, our options are sadly limited on PC - and they're about to get more limited. Activision will remove Tony Hawk's Pro Skater HD from sale next week. They do not explain why, but in these situations it's usually due to some license or another expiring. On the bright side, the game is heavily discounted in the run-up to its disappearance. Folks who buy now will get to keep and play it after the vanishing.
If you fancy a pop before it nips out, an 80% discount brings Tony Hawk's Pro Skater HD to £1.39/1,99€/$1.99 on Steam until July 17th at 6pm (10am Pacific), at which point Activison will pull the game from sale.
The announcement gives no explanation for this, saying only that "the game will be retired from the store". Such foolishness is usually due to licenses expiring. Sometimes it's music licenses expiring, and THPSHD does pack hard-rawkin' licensed skatetunes from bands including Lagwagon, Powerman 5000, and Bad Religion. Licensed music is what got Alan Wake yanked. Other times it's licensed brands. Here, dunno.
Tony Hawk's Pro Skater HD is not a great skating game. It rolls parts of the first two Pro Skater games together into one sloppy game. Activision then had the cheek to add Revert moves from Pro Skater 3 in paid DLC - which is not discounted. But it is a rare PC appearance for a genre which largely skips PC.
If you've still got old discs and whatnot, I do hear the THUG PRO mod for Tony Hawk's Underground 2 is good. Like THPSHD, it mixes in levels from across the series. Unlike THPSHD, it's built on solid foundations.
Ah, fine, I'll probably grab THPSHD before it vanishes. I tried learning to skateboard a few years back and earned myself a good collection of wounds, until the pal teaching me became (I think) a little frustrated with my badness. I recently bought a deck because it has rad Hellen Jo art so, uh, I guess I've committed to trying again.
While you're here, I'll point out that Hannah Nicklin (who you might remember for A Psychogeography of Games and her time with Klondike) had an interesting look at how the Tony Hawk games shaped the UK skate scene.