Tower Defence Round Up, Yeah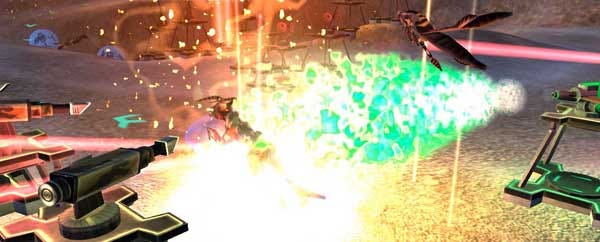 No, really. There is more than one tower defence game worth talking about. I've post the trailers for both of them below. Good times.
The first is the rather lovely cartoon, open-plan 2D tower defence game Revenge Of The Titans, by Puppygames. Alec got pretty hot for their last title, the excellent Droid Assault, which you should all download and play as soon as you've read the entirety of the this essential and fascinating piece of tower defence news. The second (pictured above) is the 3D tower defence spectacular of Sol Survivor, which features multiplayer co-op, and multiple "commanders" with orbital attacks and their own repertoire of tower erection abilities. Yeah, I said that out loud. Both games will be out, eventually. Probably. Go take a look at their moving portraits.
I am actually ridiculously excited about this. I don't even know why, it just looks right.
Then there's the 1000% more shiny and explody Sol Survivor, for continuous escalating laser-biff, in 3D! Which thrills me a bit less.