Tower Of Grow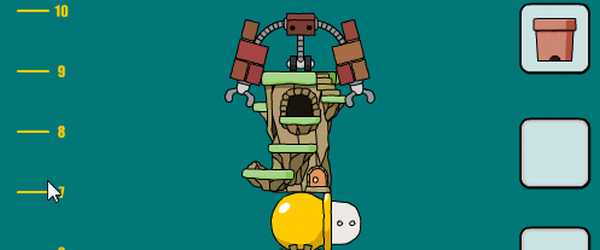 Master of icons ON has devised another cutely obtuse Flash puzzle. If you've not experienced his especially charming breed of lateral thinking before, his latest, GROW TOWER, is as good a place to start as any. If you're an old hand at these things, you might be a mite disappointed that the chap's still clinging to the same concept after so many games. Surely time to take things further, Mr Maze?

And while there's a reliable gallon of character and inventiveness in the surreal animations unlocked as the puzzle progresses, there's a real dearth of logic behind the solutions this time. You'll work it out fairly quickly, but by trial and error rather than any degree of cleverthinks. For my invisi-money, GROW RPG remains his best work. More like that, please.
Still, 15 minutes of complimentary new web-fun from this talented fellow is never to be sniffed at. Hopefully he's got something bigger and bolder up his sleeve next, though.
Thanks to Nabeel for the tip-off.