Trackmania 2, Now With More Toilets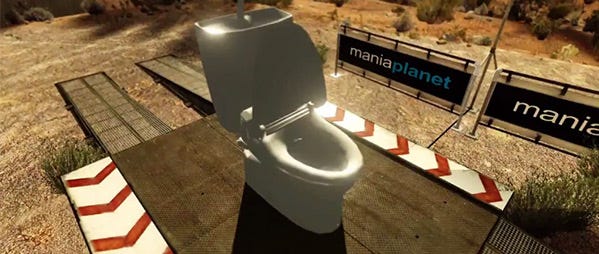 I can't say I stuck with Trackmania 2: Canyon because I, uh, didn't stick with Trackmania 2: Canyon. It was fine! But it was also basically doing the same thing as I've been doing in a half-decade of preceding Trackmania games, except with prettier graphics, no choice of cars and a mad menu system. Others have stuck with it, however, and have been making the very best of its most impressive feature: the track-builder tool. While the below video is, realistically, pure promotion for the game, it also makes me go 'ooh' and 'wow' and 'cor!' and 'wouldjalookitthat' and 'BLIMEY'. Especially for the guy who managed to replace cars with toilets.
Basically: the community is slowly making the game into the game it should have been, and then into the game it could never otherwise have been. I salute you, virtual architects and paint scheme-designers.

Are the players doing the developers' jobs for them? Maybe. I reckon it's worth it, though - in the same way the Arma games are far better for the community's passionate efforts. I genuinely want to go check out the game again now, and I suspect no official car'n'track pack could ever have achieved that quite so effectively.