Choo Choo! Train Valley Leaves Early Access
It was already lovely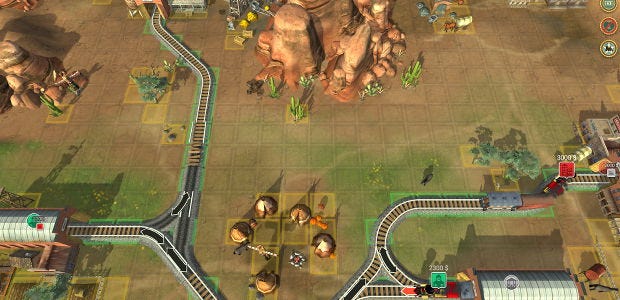 Train Valley [official site] is not the deepest or most serious train management game around, but it's not meant to be. Marsh enjoyed playing the Early Access version, laying lines and directing trains and suffering disasters and bankruptcy, and I know Adam has enjoyed it too. If you're put off by Steam Early Access, though, good news: Train Valley has just graduated to a properly-released game after five months.
Marsh clearly knows more about this than me, so here's some of what he said:
"... it is hugely enjoyable. (Maybe that's why First Great Western still exist – they just seem to having so much fun no one can bear to end their contract.) And not just enjoyable, but exciting, too. Even though the game lets you pause time at any moment – to flip signals, give trains instructions, or designate areas for track to be laid – the game quickly requires intense concentration as you micromanage your choo-choos, ensuring that the blue one stops just long enough for the red one to nip past, before you flip the signal and shunt it onto the track just in front of the yellow one, which leaves its tramshed just in time for the purple one to enter. Or, more likely in my case: everyone dies and I console myself by paying myself a gigantic bonus and hiking fare prices. Suck it up, peasants!"
Sounds pretty good, that!
Train Valley is now properly out for Windows, Mac, and Linux. You can find it on Steam for £7 or DRM-free on the Humble Store with a Steam key too. Impressively, it's the work of three chaps - Alexey Davydov, Sergey Dvoynikov, and Timofey Shargorodskiy. Steam and its site have a demo, though I believe it may be from an old version (?).