Twice The Bundle, Twice The, Uh, Fundle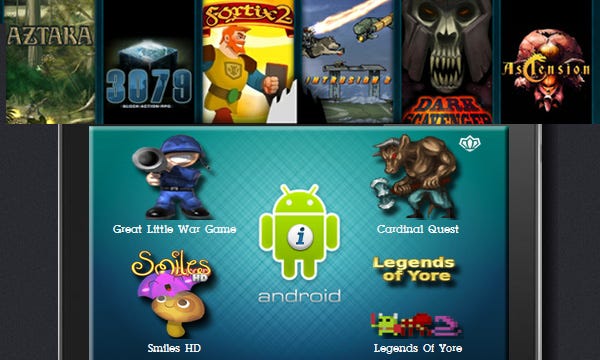 Don't forget in these crowdsourced times that indie bundles remain very much a going concern. If anything, the huge success of the latest Humble Bundle (alright it might be only semi-indie, whatever, don't be boring) means focus might once again turn to pay-what-you-want, publisher-free collections. Two more have turned up in recent days. IndieGala's latest contains both PC and Android versions of some right little RPG and strategy crackers, while Indiefort's second volley has a more fixed price for a selection of higher-tech PC games. Details below you may find, yes.*


IndieGala Mobile contains the following for Android if you pay whatever, but if you want the PC versions as well you need to beat the average price - currently $4.38.
Great Little Wargame (turn-based strategy)
Cardinal Quest (Guantlet-esque)
Legend of Yore (cheery turn-based Diablo-like)
Smiles (match-3 kinda thing)
I am familiar with the first three of those, and can confirm that they are eight otters out of high tea. Which, as you well know, means "quite good."
If you do pay more than the average, you'll also get the following on PC, none of which I know myself:
Turba (music-based match-3)
Pitiri 1977 (platformer)
Manor Of The Damned (RPG)
Also soundtracks and stuff, if that's the way you bend. Money can be split as you desire between the devs, the Gala organisers, the Ablegamers charity for disabled and wounded folk and the Red Cross' relief for the earthquake-hit Emilia Romagna region of Italy. This bundle has three days left on the clock.
Then there's Gamersgate's Indiefort 2, which asks a minimum of £3.99 for the following (which it claims is worth some £55):
Intrusion 2 (16-bit inspired platformer)
3079 ("futuristic, open-world action first-person role playing game". Hmm, I should probably look at that).
Aztaka (Atzec-inspired action RPG)
Fortix 2 ("reverse turret defense game")
Demise: Ascension (an old-school RPG, with multiplayer)
Dark Scavenger (strategic/point'n'click RPG)
I must confess that the only one of those I've heard of previously is Fortix, so I can't tell you anything useful. They all sound interesting in their own way though, and I hope to give 'em a spin soon. If you want to beat me to it, off you go. It runs for another six days. No charities involved, but you can lob in extra cash which will go direct to the devs if you like.
* 'talk like Yoda' is my latest technique for surviving endlessly posting about indie bundles.