Epic Team Deathmatch: New Unreal Tournament Video
"Most of that was you, bro"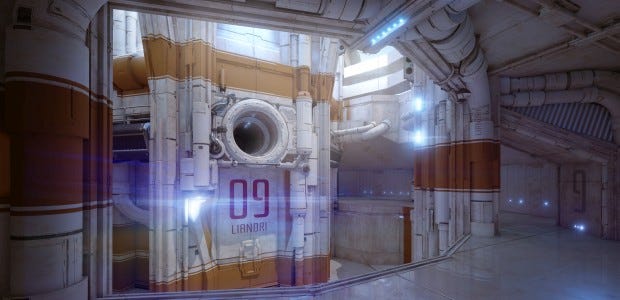 I know how game development works. I know you aim to have something playable as quickly as possible, and then test, iterate and repeat for potentially years. That doesn't stop me being reflexively impressed that Epic are already playing team deathmatch in the new, community-driven Unreal Tournament. They've got all the weapons in, there's a couple of new maps, and heck it already looks pretty fun in this three minute video of the devs playing and chatting about what they're playing.
My favourite part is when one designer is talking to another about how the shape of a doorway makes it too easy to hide in cover, and how a larger corridor and curved wall might help. Hot level design chat! That curved wall thing is a clever idea.
But then someone uses the word "bro" and I can't tell if it was ironic or not, so swings and roundabouts. Innit.
The new Unreal Tournament is being designed as a platform for community creativity as much as a game in its own right. Essentially, Epic will create a core set of weapons and maps and release those for free, and then players will be to use available Unreal Engine tools to create weapons, maps, models and game modes which they can then sell to other players through the in-game marketplace. The plan has thus far been most commonly compared to Valve's Team Fortress 2 Steam Workshop, though it occurs to me now that it has more in common with things Nadeo were doing years ago.
Part of making this game in partnership with the community is that the Epic team are being open about every stage of the development process, by livestreaming their work, blogging regularly and soliciting feedback via their forums. If you have opinions about Shock Rifles, now is the time to speak up.
It's still early days about the game, but we've already written a fair number of posts about the new Unreal: Nathan interviewed the devs about how it would work, and Ben mused on his enjoyment of the livestreams. It's almost like we have opinions about Shock Rifles.
Here is my biggest concern about development so far: what is this game called? The post on the Epic blog only refers to it as Unreal Tournament and that's what the logo says, too. Didn't we already have a game called that? I was briefly unsure what the video above would be about when they said it was of them playing team deathmatch in Unreal Tournament.