VA-11 Hall-A adds remastered Prologue chapters
Corglicious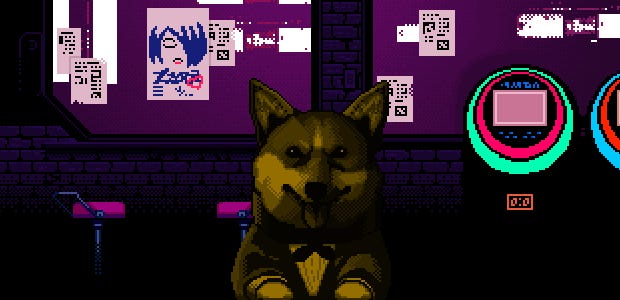 Cyberpunk bartending game VA-11 Hall-A [official site], which Sin Vega quite liked, has launched a free update adding new story chapters. Well, old chapters. Renovated old chapters. With lots of dogs. The three-day prologue, released two years before the full game but kept separate from it, sees the run-down bar hosting a private party for adorable intelligent corgis with cute names and digital voiceboxes. Let me tell you, those woofy lads cannot handle their drink.
Developers Sukeban Games explain that the revamped prologue "sports the shiny new visuals from the current engine, new story bits, extra room skins and new music from Garoad, plus awesome remixed songs from Sage​W and Senza​Fine."
If you fancy a crack, look for the blue button in the top-left corner of the main menu.
Reflecting on the 2014 Prologue, Sukeban say:
"...the Prologue episode was a small three-chapter release meant to be a test to gauge interest, get some money to fund development, and a bonus for pre-ordering all at the same time. We got tons of feedback that shaped the final product and it was key to our survival."
Looking back at the Prologue's initial release myself, dang, I'd forgotten how unhelpful that version's interface was. I'm glad they listened to feedback on that.
The 'Special' demo chapter which introduced mysterious glitchgirl Anna Graem is also now in the main game, which is handy. You can access it the same way as the prologue. I think that's all of the game finally now, y'know, in the game?
To celebrate this launch, VA-11 Hall-A (still a terrible name, yet somehow better than 'Valhalla' would be) has a 15% discount on Steam, GOG, and Itch.
[Disclosure: Our former Bargain Bucket filler Cassandra Khaw works for VA-11 Hall-A's publisher, Ysbryd Games.]