Valve ban Dota 2 player from tourney over racist remark cover-up
Bad remark, sloppy cover-up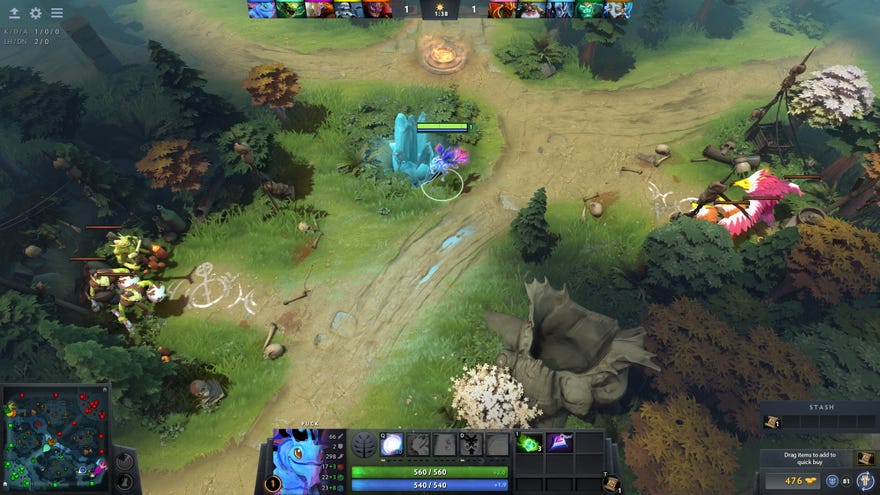 Valve have banned Dota 2 player Carlo "Kuku" Palad from their upcoming 'Major' tournament in China over a racist comment he made mocking Chinese players in a non-tournament game earlier this year. Kuku's team, TNC Predator, initially tried to pass a cover-up story and have further muddied waters with unsupported claims that Major host city Chongqing's government threatened to cancel the tournament if he attended. Now Valve have stepped in and accused the Filipino team of behaving unprofessionally and "making the situation much worse than it needed to be." straight-up banning Kuku from the tournament and docking TNC points on this year's Dota Pro Circuit.
"Our view on the situation is that responsibility resides with teams to handle these types of issues professionally," a statement last night. "When they fail to do so, we will step in. While it is one thing to make a mistake and apologise, it is quite another thing for the team to lie about it or try to create cover for an individual player. TNC has mishandled the situation on multiple occasions, making the situation much worse than it needed to be."
Kuku had said "Ching chong" over text chat in a public game, a racist remark often used to mock Chinese people. Especially as he's the former captain of TNC, it's not a good look. What made it doubly insulting to many Chinese players was that it came days after Rolen "Skem" Ong, another pro player from another team, used the same racist jeer against a Chinese team in a tournament game. But while Skem apologised the same day and his team, Complexity Gaming, immediately fessed up and vowed to reprimand and fine him, TNC lied about Kuku's remark and tried to cover it up.
Kuku's account on Weibo (a Twitter-ish site) posted a screenshot from Dota's in-game replay system, showing that one of the opposing players had the username "Ching Chong."
"As you can see, there's a guy using the name," the Weibo post said. "He happened to kill me during the game which made me say the word. It was not an intention to insult anyone. But again, if anyone is offended, I'm sorry."
Only that player's name wasn't "Ching Chong" at the time - they had changed it afterwards, and that's the point at which the screenshot was taken. This tripped up TNC Dota team manager Paulo Sy, who did not know the name had been changed when he--not Kuku, he says--wrote that Weibo post.
"I'm sure a lot of you are looking for an explanation on why did Kuku try to lie his way out of the incident," Sy wrote in a a Facebook post. "It was me. I was the one who posted the screenshot post. I was the one who told the LGD manager that Kuku only said the racism word because there was someone using the name without Kuku's knowledge. I was the one who lied."
Sy said he "saw that opportunity to cover up what Kuku did" and went for it. "As a manager, I always saw my job as someone who should make everything easier for the team. Instead, I made it worst."
TNC docked part of Kuku's tournament winnings (and some future winnings) and took half a month of Sy's pay, donating it to an anti-racism charity, but it was already a huge public mess. Chinese players review bombed Dota 2 on Steam, and many were unhappy about the prospect of Kuku coming to China to play.
Valve's post acknowledged that "there is a lot of anxiety around his attendance and problems it may create" but disagreed with the impression given by TNC that he might be in physical danger ("The organizers will not be able to guarantee his safety should he attend," TNC said). Valve added that they'd given TNC the opportunity to replace Kuku with a substitute without suffering the usual penalty.
"We assumed that they were then working on a plan to replace Kuku with another player. However it seems like TNC is currently not taking proper responsibility for their actions, coupled with the attempted cover up by the team, so we are now stepping in directly and banning Kuku from attending this event. To be clear, TNC is not the victim in this case. It is not okay to cover up the situation, avoid any real sense of responsibility and then deflect it onto the community."
Lying, covering up, and playing to the crowd are not good responses to doing something racist. Digital sports are still pretty terrible at relating to wider society. Physical sports still have many problems too, of course. And most of society, I suppose. What I mean is: digital sports and digital sportists are bad at handling fuck-ups.
"Players and teams will make mistakes in the future, and they should accept responsibility for them," Valve say. "We want there to be opportunities to learn from their errors, but taking responsibility doesn't mean making mistakes don't come with a cost. Covering up the situation is not an acceptable approach to the problem, and demonstrates poor decision making from TNC that requires accountability."
The Chongqing Major is due to run January 19-27.