You May Not Be Able To Get Valve's Vive Until Next Year
"Limited quantity"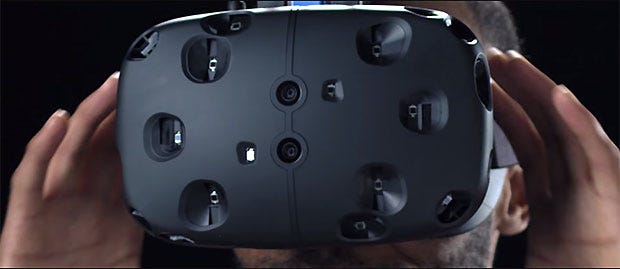 Good news: Valve Time hasn't entirely disrupted the planned Holiday 2015 launch of the Vive, their much-anticipated VR collaboration with HTC. It's still on course to happen before the year is out.
Bad news: But, er, only for a lucky few. The main launch has been pushed back to next year.

We don't know why, but it's not unexpected, especially given there's no concerete release date for the consumer Oculus headset yet, so the race is not as acute as it might be. Here's all we've got to go on, sent to us via Valve press release: "Later this year, HTC will offer the first commercial Vive units via a limited quantity of community and developer systems, with larger quantities shipping in calendar Q1 2016."
'Limited quantity' is very much open to interpretation, of course: it could mean hundreds of thousands, it could mean a handful. Expect a web-wide rush and panic once they open orders, however. I sold my Oculus Rift DK2 a few months back in readiness for this, and now just have pray I'm not asleep once Vive orders open.
Hopefully Q1 2016 is a real Q1 2016 too, in which case the masses should only have to wait until Spring. But, Valve Time. We shall see.
Valve also confirm that "over 80 VR titles are known to be in production for the Vive", and that they've had a slightly frightening 10,000 inquiries about dev kits. How many of those are actual developers, and how many of those are actually in a position to develop VR games we don't know, of course.
The latest game announced for the Valve/HTC Vive is Fantastic Contraption, from Incredipede dev Colin Northway. Graham wrote about that yesterday, if you missed it.