Valve's list of cancelled games includes a Dark Souls-like RPG, a new Left 4 Dead, and Half-Life 3
Oh, dreams...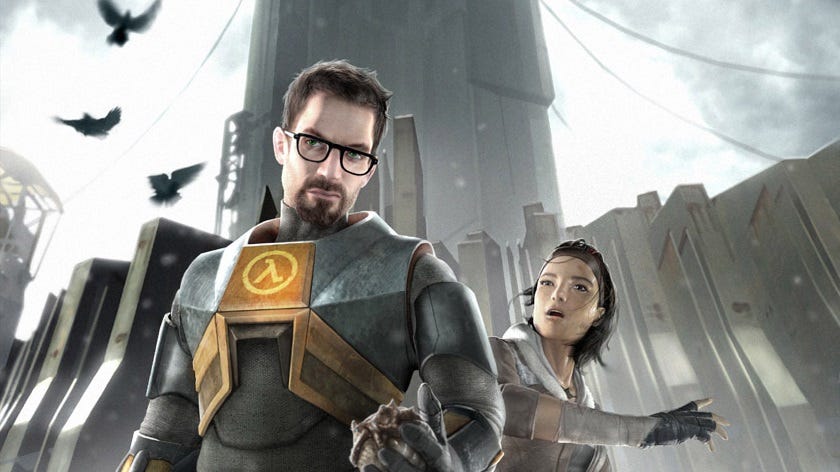 Can you imagine a Dark Souls-meets-Monster Hunter RPG made by Valve? I think I would've loved that. Unfortunately, it's on a list of Valve's games that were never meant to be. Of course, Half-Life 3 is sat up on that shelf, too, along with Left 4 Dead 3, and another Half-Life-themed shooter that would've looked very different to what we got with Alyx. It's all been revealed as part of the Half-Life: Alyx - Final Hours documentary, and there's loads of juicy info on what Valve have scrapped over the last 10 years.
Valve's first roleplaying game never actually left the conceptual stage, so it never even got a name - they simply refer to it as "RPG". It was inspired by games including Monster Hunter, Dark Souls, and The Elder Scrolls, and they wanted it to be a game they could continually add features and content to over time. Devs briefly experimented with making it a Dota-themed RPG in the end. It would have been a singleplayer experience starring Axe. Alas, it wasn't to be.
There are a couple more familiar titles that were scrapped after Valve realised their Source 2 engine wasn't quite up to snuff to take on more ambitious games. The likes of Left 4 Dead 3, which would have been an open world zombie-fest set in Morocco.
Then, of course, there's Half-Life 3, which is known to have bounced around for years. The documentary says one version went through over a year of prototyping around 2013-2014 before hopping up on that shelf. It would have had procedurally-generated story sections, so every time you replayed it you'd have a slightly different experience. They even got so far as scanning the face of the G-Man's actor, Frank Sheldon (who showed up to the session in a full suit and tie, what a guy).
We even could have had a Half-Life-themed VR shooter that looked pretty different from Half-Life: Alyx. Much like RPG, this one was simply codenamed Shooter, and was designed for use in Valve's VR experience, The Lab, though wasn't finished in time for it. It used preexisting Half-Life assets in "an arcade-style shoot-em-up", where you played as an unknown member of the resistance in a load of different gun-fights.
This then inspired a new Half-Life universe VR game, Borealis, which, as you might expect, took place on the Borealis, the Aperture Science research ship talked about in Half-Life 2. We would've gotten to explore the ship as it travelled back and forth in time through Half-Life's various wars, but yet again, the prototype was shelved.
Next up was a "fun, light-hearted" game called A.R.T.I. internally. It transported players to a world full of destructible and constructible stuff, something a bit like Minecraft but with Portal's tone and humour. An early demo actually existed of this one, too. It featured a character named King Kevin that players had to break out of prison by destroying walls, building bridges and shrinking things.
The last couple of little games that we don't get much info on included one codenamed Hotdog. Named so fans wouldn't know what it was if it leaked on the internet, it was actually a new take on Left 4 Dead. While details on this are scarce, it was something different to their planned Left 4 Dead 3.
The other was another VR game. Named SimTrek, it was created by several former Kerbal Space Program developers who joined Valve, but was cancelled when Alyx's development got properly underway.
It seems we have Half-Life: Alyx itself to blame for a few of these cancellations, then. Though perhaps blame is too strong a word - in the end, these games were shelved to make way for a bloody good instalment of Half-Life. Don't take my word for it, though, according to Graham's Half-Life: Alyx review, "it's the Half-Life game you've been waiting for, even if it's not the one you were expecting."
If you're able, the documentary is worth checking out on Steam. It costs £7.19/€8.19/$9.99, and gives access to a bunch of development stories, Half-Life inspired puzzles, and even an interactive audio mixer that lets you concoct bespoke alien screams.