CCP Shut Down Vampire: TM - Bloodlines Fan Remake
CCP call halt on VTMB fan remake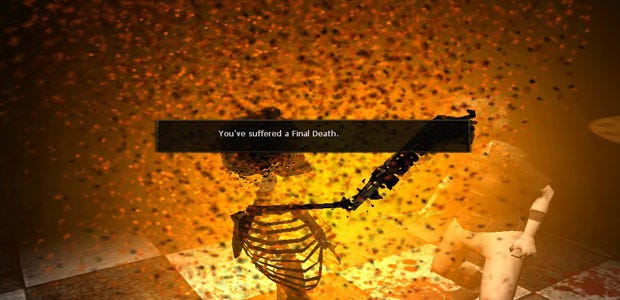 EVE developers CCP have put the kibosh on a fan remake of Vampire: The Masquerade - Bloodlines.
The remake, known as Project Vaulderie, was billed as a non-commercial endeavour focused on recreating Troika's RPG in Unity. The reasons for the remake were partly to do with making it more stable, partly for modding reasons, partly to add multiplayer, and partly just to bring it up to date in terms of the graphics and technology.
If you're wondering how CCP then got involved, VTMB is based on White Wolf's pen-and-paper RPG system, Vampire: The Masquerade, itself a part of the World of Darkness. White Wolf merged with CCP a few years back. According to the Vaulderie team, a contact at CCP had advised that Activision (VTMB's publisher) held the relevant copyrights and thus were preparing to pitch it at that company.
It looks like their contact (who has since left CCP) missed something, though, as the cease and desist states, "While Activision retains certain rights to the game it created, CCP continues to own all other rights associated with Vampire: The Masquerade, including the copyrights and trademarks noted above."
The letter goes on to highlight the project's unauthorised use of registered CCP intellectual property and states "we believe you are infringing CCP's intellectual property rights".
It concludes:
"We ask that you immediately cease and desist from the use of CCP's name and other trademarks on http://www.projectvaulderie.com/. Specifically, please remove all references to Vampire: The Masquerade and Vampire: The Masquerade – Bloodlines from your website, software, and related materials. In addition, remove all artwork from the original Vampire: The Masquerade – Bloodlines game from your website and software modifications, and discontinue any future use of such artwork. If we do not receive an immediate affirmative response from you indicating that you have fully complied with these requirements, we may be forced to take further legal action against you, including but not limited to a DMCA notice to your Internet Service Provider. Thank you, in advance, for your cooperation."
The thing here is that CCP, as rights holders, are perfectly within their rights to send out these notices and to protect their intellectual property when it comes to fan re-imaginings. However VTMB has a very particular history when it comes to fan-created content and it's this which makes CCP's letter feel so jarring.
A rush release after Activision delivered the developers an ultimatum, VTMB ended up hitting the shelves on the same day as Half-Life 2 in what's probably best described as a semi-finished state. In the following months staff were let go and Troika closed its doors in early 2005. Troika released two official patches but the vast majority of the bug fixing, the patching, the restoration and completion of unfinished content has been done by a community of fans who adore the game. Nearly a decade later, a dedicated community is still working on the game – I think they're on unofficial patch 9.2 now.
It's this dedication which meant so much of the game's potential could be experienced rather than lost under a heap of frustrating bugs and glitches. That's why CCP's cease and desist feels so out of step with an understanding of how VTMB's community works. A secondary irritant in the matter is that CCP also cancelled their own World of Darkness MMO earlier in 2014.
The Vaulderie team say they will comply with the request but that they are actively seeking alternative resolutions to the matter.