Warcraft: The Beginning Gets A New Poster
Lights, camera, Azeroth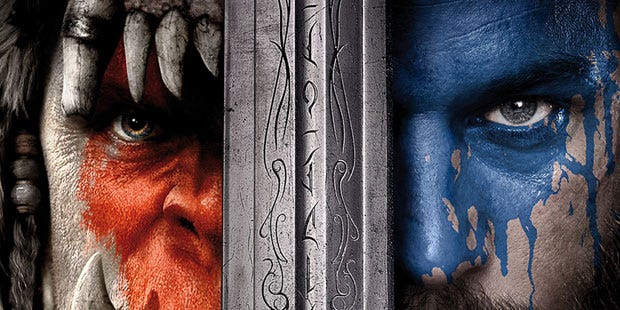 In this episode of Dispatches From Warcraft we have not one but TWO artwork announcements.
One is a Warcraft: The Beginning poster. I hadn't been keeping up particularly so I hadn't actually considered that it wasn't going to be called "That Movie They're Making Of Warcraft". I guess The Beginning could mean a whole bunch of things but for me there are hopes that it means not being too tied up in the convoluted lore that the game has accrued over the years.
Alternatively it could mark the start of a curiously honest naming strategy in a franchise (and there is no way I don't think they're aiming at franchise).
We could have:
Warcraft: The Beginning
Warcraft: The Movie After The Beginning One Where Something Happens But We're Mostly Setting Up For The Third Film
Warcraft: The Third Film That Is Very Serious And Feels Kind Of Hard Going And Are You Sure It Had To Be Three Hours Long
Warcraft: The Fourth Film That Has That Poignant Bit
Warcraft: The First Part Of The Fifth Film Because This Definitely Had To Be Five Hours Long
Warcraft: The Second Part Of The Fifth Film Which Will Be Billed As The End Of An Era And Encourage A Lot Of Journalists To Read Through Quarterly Earnings Reports To Find Out How Many People Are Still Subscribed To WoW And Make Some Kind of Point About It
Warcraft: The Prequel
Warcraft: The Next Generation
Warcraft: Resurrection
Warcraft Forever
Warcraft And The Legend Of The NeverBeast
Warcraft: The Squeakquel
Warcraft: Red, White And Blonde
Warcraft: Pig In The City
Anyway, going completely from the poster my prediction for plot is that it will be a romcom. An orc and a human meet and get into an argument (despite clearly being perfect for each other) as they each reach for the last Skull of Gul'dan at the supermarket.
They can't agree so they decide to live together (that explains the Two Worlds. One Home tagline) and share it. After a lot of comedic misunderstandings and faffing about and bickering they realise they are in love and each wants the other to have the Skull because of feelings.
"You consume its power!"
"No, you!"
Eventually they both consume its power BECAUSE ROMANCE and somehow their faces mash together as indicated by the poster as well as causing them to become semi-demonic. They are now one being and also they have a fancy sword.
Maybe it is for the best that I did not do the script. Or maybe I'm exactly right. We will find out more when the trailer lands on Friday.
The OTHER piece of Warcraft artwork news is the reveal of the cover art for the Illidan novel.
What do you mean "What Illidan novel?"
Blizzard partnered up with Random House for a set of novelisations starting with World of Warcraft: Illidan, The William King World of Warcraft: Illidan BY William King.
Having watched the announcement video, the novel is being pitched as a chance to get into Illidan's character and history. It sounds like they want to explore his motivations and get into the heroic side of his villainy.
But the cover art?
The cover art tells me a tale of Illidan joining WWE back when it was WWF. It is a story of men in tiny pants wrestling their way through wonderfully preposterous storylines. He is THE BETRAYER.
When he trash talks before the Main Event it is basically him shouting variations on "YOU ARE NOT PREPARED" and flexing his demon-elf chest:
He started out as one half of the Storm Boyz with his brother Malfurion but there's this whole love triangle plotline where he really fancies this girl but she's in love with his brother and eventually they have this massive fight at one of the pay-per-view events as a result of it. Illidan is later exiled for plot reasons but stages a dramatic comeback thanks to his brother's wife who wants to use his power for her own reasons.
His next major arena event is Lich King of the Ring and he faces off against Arthas "The Prince" Menethil. The fight goes on for bloody ages but then TWIST ENDING Illidan becomes half demon and lays waste to his enemies.
Vince McMahon is furious and fires Illidan. He continues to make guest appearances, always with nefarious intentions and then comes back properly for a rematch against Arthas which Arthas won but ONLY because Illidan faked is own death. He shows up again for one last hurrah, but a bright new talent floors him, using the taking down of a legend to advance his own career and get headline billing at future live events. Illidan puts his collection of tiny pants for sale via an eBay charity auction and retires from the world of pro wrestling forever.
Blizzcon starts on Friday is what I'm getting at. I think that's what I'm getting at. STOP ASKING.