Warlords Of Draenor: Blackrock Foundry's Raid Bosses
A peep at Blackrock's bosses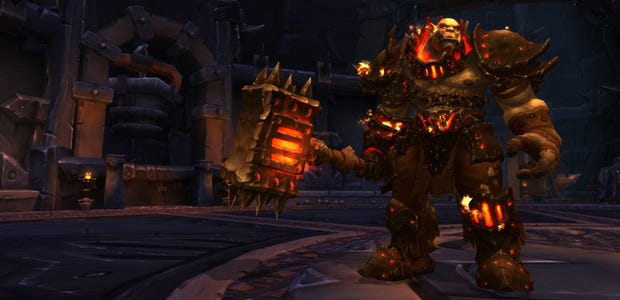 Blizzard have released a preview for the upcoming Warlords of Draenor raid Blackrock Foundry, with info about its denizens and bosses as well as some general Foundry facts.
The raid opens on February 4th with Normal and Heroic difficulties (Mythic is slightly later on Feb 11th and Raid Finder kicks in on the 18th) taking the titular Blackrock Foundry as its setting. The Foundry used to be home to the Blackrock orcs but is now being used by Warlord Blackhand to pump out weaponry intended to destroy Azeroth.
In terms of raid requirements you'll need to have a minimum item level of 635 to tackle the experience and the rewards range from item level 650 – 695. Blizzard seem far more keen to talk about their boss monsters though. You can go through the whole roster on their blog but here are my favourites from the descriptions:
The Blast Furnace:
The Blackrock clan's unique ability to smelt the black ore, a substance so dense that ordinary flame does not even soften it, has always been their most closely-guarded secret. Deep within the Foundry, their furnace contains a primal force as old as Draenor itself, raging within the confines of its prison as it emanates a preternatural heat.
The Iron Maidens
With little opportunity to exercise her tactical brilliance under the ancient social structure of the orc clans, Gar'an was thrilled to be one of the first warriors to volunteer for naval duty under the Iron Horde. Instantly successful in battle, she was named Admiral of the iron Horde fleet and selected Marak and Sorka as her lieutenants. Together, they are called the Iron Maidens, and have crushed any who have dared face them.
Beastlord Darmac:
As a young orc, Darmac quickly rose through the ranks of the Thunderlord as a gifted trainer of beasts. Where others only saw animal instincts, he recognized intellect and drew forth untapped potential from brain and muscle and bone. When the Iron Horde demanded his service, Darmac saw no greater honor than to outfit and train the most savage beasts Draenor has to offer.