Wartile wages RTS war in pretty dioramas
Vikings on the rampage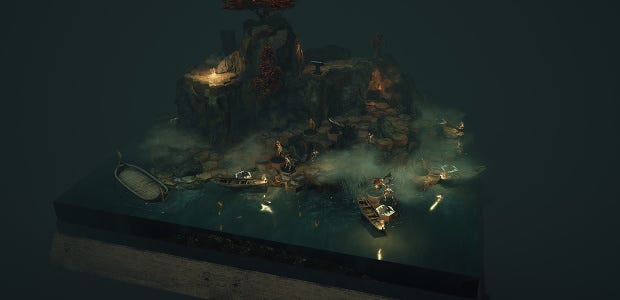 Oh me oh my, Wartile [official site] is a pretty one. It's a medieval real-time strategy game set in cute little dioramas, which even have polished wooden bases. Whoever made those loves their wars. It's a curious wargame, with customisable figurines and a bit of deck-building with cards that give bonuses and abilities. If you dig the sound (or look) of that, hey, Wartile entered early access today. I'd expect a hexy strategy game to be turn-based but nope, these wee men bounce around in real time. See for yourself in this trailer:
That's a fair bit of information to pick up just by watching a video so here's an explanation in word format from developers Playwood Project:
"Each Battle Board is an intricately realised digital diorama complete with tiles that allow players to strategize their tactical moves and attack in real time. Units are fully customizable with armor, weapons and new stat tokens that players can pick up throughout the game by completing special challenges. Stat tokens provide points that players can add to their characters stats which unlock when players level up, stat tokens can be discovered in each of the various Battle Boards in the game. Players can add a tactical edge to their combat by utilizing Ability cards and Godly cards as their figurine gains more experience, and by completing special battle board objectives. Godly cards and abilities can be assembled by the player before engaging in battle and used during combat, these cards can easily change the course of the fight should the odds be stacked against their favor."
The singleplayer campaign sees Vikings battling across boards to control England and Scandinavia. Multiplayer is in too, obvs.
Wartile is £13.49/17,99€/$17.99 on Steam Early Access, which includes a small launch discount. Playwood say the singleplayer side in this initial early access release is about two hours long. They plan to expand that, and to add more figurine classes, to "create a deeper combat system" by adding more cards and environment types, to bop in random encounters, and to expand multiplayer with competitive matchmaking and co-op. They hope to launch within 6-9 months.