Whaddya Buyin'? Titanfall's Black Market And Second DLC
SchoomkabloombangstompFOOM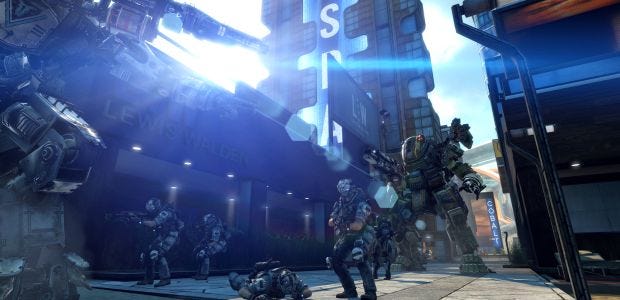 Much like Barney and his beatings quota, I am way behind on giant stompy robot explosion-fests. Titanfall has a good shot for my game of the year if I ever find the time to actually play it again. Most likely everyone left on PC at this point are hyper-elite maniacs with actual cybernetic implants to control the game with their thoughts. At least we'll all be equally unfamiliar with the three maps coming in the second DLC pack, Frontier's Edge.
It's also launching a "Black Market" that will sell some cosmetic items and packs of the one-life buff Burn Cards. These are bought with a new in-game currency that's earned through normal play or by binning unwanted burn cards, effectively letting you trade in a few for one you particularly want.
Respawn showed off the new maps an all that in an hour-long livestream recently:
A series of blog posts detail the three maps too - Dig Site, Export and Haven. In the one about the Black Market, Respawn make a point to say that it is not a prelude to microtransactions. It doesn't seem like any of the things purchasable there would be worth spending real money on anyway, but it's nice to know that their policy is still to never have any.
The DLC will launch on July 31st alongside Update 5, whose patch notes will go up next week. Respawn mentioned in the livestream that fixes are on the way for a number of PC hardware-related bugs and general graphical improvements.