What Are You Playing This Weekend?
Well?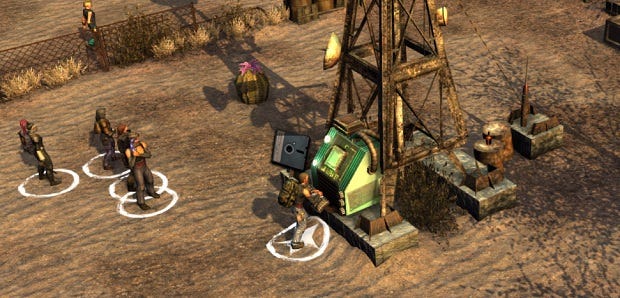 You don't need to say, dear reader. You don't need to comment on this post. We already know. We are watching you.
But only because we care. It is an act of love. Of compassion.
Trust us.
We will keep you safe.
~
As far as I'm aware, no one is watching me. Of course, this could be precisely what they want me to think. Therefore this weekend I shall be lulling them into a false sense of security by crawling inside a dressing gown the size of an elephant or two tauntauns, drinking a cup of tea on the hour every hour, and continuing my adventures in Wasteland 2.
I just reached California, you see, and I'm having a jolly time trying to spot references to Brian Fargo's other post-apocalyptic lovechild, Fallout. So far I've not run into much, which is a genuine surprise given how many other gags are packed into this otherwise moody and atmospheric RPG.
Still, I'll be a monkey's father's brother if I don't run into a bunch of over-zealous techno-religious types with heavy firepower and a hard-on for keeping the good stuff to themselves.
If I get a little bored of Wasteland - ha! - and fancy entertaining myself otherwise for a while, I'm frankly spoiled for choice. I'm sure I'm not alone in trying to work out which games I most want to wrap up before the inevitable deluge of delicious Christmas sales.
I could date more fowl-mouthed chicks in Hatoful Boyfriend. I could continue getting everyone killed in Gods Will Be Watching. I could finally get around to finishing any of the Ice Pick Lodge games I've started and neglected to finish. And I could even continue persuading my girlfriend that we should play Vampire: The Masquerade: Bloodlines together, which I gather is possible. I'm a grotesque nosferatu, and in the game.
Why, I could even switch on one of the cons- ha, no, what a ridiculous notion.
~
But what about you, dear reader? What will you be playing?
You do not need to say. We will know when it happens.
But we do not know in advance.
Yet.
Love,
The Hive Mind