What If Gordon Freeman Had A Body?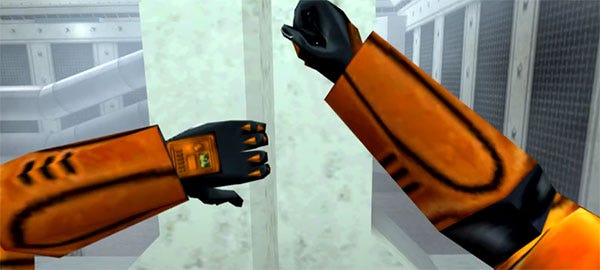 (I was going to title the post Gordon 'The Body' Freeman, but I figured people would just think it was porny fanfic). James Benson, the chap behind the splendid Dance Fortress video has gone for a rather different tack for his next project. He's cut a new trailer for the original Half-Life, demonstrating how the game might look if Freeman was a real physical presence rather than just a hand with a gun. The first-person perspective remains, but it's now augmented with believable arms. Arms that open doors, climb ladders, prise open vents, raise to protect the face from leaping Head-Crabs and even pick up and don a certain pair of spectacles that have fallen to the floor. I would like to play this non-existent videogame.

One might argue that it possibly interferes with Valve's aim of backgrounding Gordon's presence in favour of your own (see also: silence, no Gordon character model in HL2), but that hyper-physical take, akin to Mirror's Edge or Dark Messiah, rather seems to suit the game well.
Of course, deftly cut video footage and actually playing from that perspective are two different things, but let's enjoy the fantasy anyway:
Apparently this is 99% composed of original animation bone skeletons, models, skins and whatnot, which makes it even more of an accomplishment.
Thanks, DrazahLn.