Where The Wildlings Are: Crusader Kigns II GOT Mod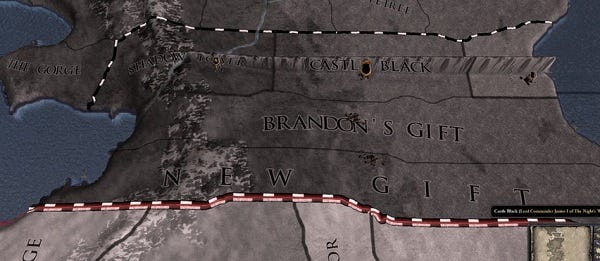 You'll likely remember that in May we alerted you to the Game Of Thrones mod for Crusader Kings II. It's first release was already incredibly impressive, packed with features and civil war. And now they've released a version 0.2. Goodness knows how good this will be if they ever reach 1.0.
Version 0.2 of the Crusader Kings II Game of Thrones mod stabilises some of the features already added to the game, weaves a few new quests into the Westeros tapestry, and adds playable wildlings. The free folk, doing their thing north of the robust prog rock album guarded by the Night's Watch, aren't wholly compelling yet, although as more scenarios are added, they should become more interesting to play. Work has also been done to make the Night's Watch themselves "more interesting", although that might simply mean they've adopted a diversity of hobbies. I haven't had a chance to check. Also worth a look is the CK II plus mod. Early days, but it's making interesting changes to the base game without converting it to a fantasy land. The files are here.