Titanfall 2 Timing Tosh: EA Explain Eccentric Intent
Because reasons, okay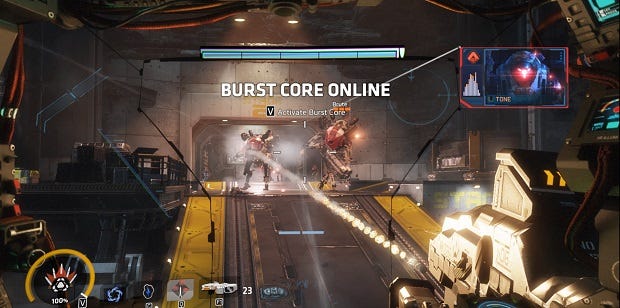 Adam's review of Titanfall 2 [official site] praised Respawn's mechtastic FPS but he did worry the game might end up overlooked. Titanfall 2 launched at a very busy time for faceshooting, see: one week after Battlefield 1, one week before Call of Duty: Infinite Warfare. Given that Titanfall has solved some of the issues that stopped the first game from taking off--it has a singleplayer campaign, and all new multiplayer maps and modes will be free--it'd be a shame to see it flop. So what were publishers Electronic Arts thinking here? Turns out, a big load of foolishness.
EA gabbed a bit about Titanfall 2 during an earnings conference call yesterday, as heard by GameSpot and transcribed by Seeking Alpha. EA haven't announced any sales figures but did talk about how they're trying to "build a franchise" out of Titanfall with Respawn, a plan they'll be working on "for many, many years to come."
It's not that I'm excited by big numbers or want to cheer for share prices; I simply want more big stompy robot fun. I worry that EA are sabotaging my future robotfun by releasing Titanfall 2 at a silly time. Apparently they're confident about this, though.
"We believe that Battlefield 1 and Titanfall 2, while they have some overlap, fulfill very different motivations in what a player is looking for," CEO Andrew Wilson said when asked about releasing Titanfall 2 so close to games like BF1. "And so we think there are really three types of players: people that really love Battlefield and that type of big strategic game play that will orient in that direction; the player that loves the fast, fluid, kinetic gameplay of Titanfall 2 and really orients in that direction; and the player that just has to play the two greatest shooters this year and will buy both."
Hey, you big silly! Not only is that reasoning a bit iffy, you forgot to mention Activision's new Call of Duty! You know, the fast, fluid, kinetic FPS that will be one of the year's biggest games? The one set in the future with parkour and power armour and stuff? The game that's surely Titanfall's biggest rival this year but has an extra decade of history and #brandrecognition behind it, not to mention a ticket price £10 lower? And which is on Steam rather than Origin? You forgetful sausage! What are you like?
I would like many years of stompy robotfun on servers brimming with happy players (and in unexpectedly great singleplayer). Please don't dick this up for us.