Win! An Alienware M11x Laptop & Total War Games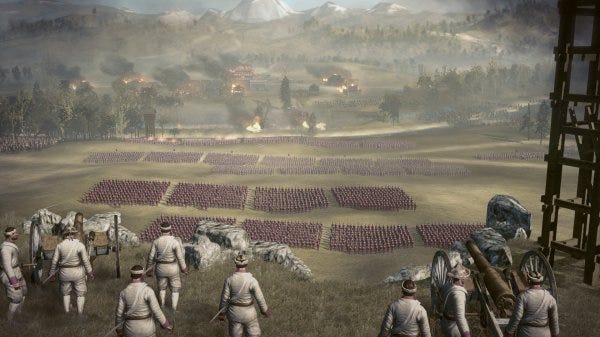 It's a weekend, it's sunny, and that means you should stay indoors playing videogames. Or reading about videogames. Either really, just stay indoors no matter what. Another way you could do that is by entering our competition to win an Alienware M11X R3 gaming laptop, courtesy of the men of war at The Creative Assembly. They've just this week released expandalone Total War: Shogun 2 - Fall of the Samurai, which moves the setting 400 years on from the original game and brings semi-modern weaponry as well as America, Britain and France into the fray, and they'd jolly well like to celebrate it by giving one RPS reader one of these 11" ultraportable gaming notebooks. It comes equipped with an Intel Core i5 brain, 4GB of remembering power and GeForce GT 540M graphicsability. Four runners-up can have a Steam key for a Total War game of their choice.

To enter, we want lovely (or brutal) pictures from you. The Samurai, Shogun and their similarly legendary chums/foes were all about nobility and honour, so it's your job to provide an authentic screenshot from either Total War: Shogun 2 or Fall of the Samurai in which honourable units are behaving as dishonourably as possible. That's the overview brief - the execution is up to you. We'll pick a winner at random, but have a good old giggle/sneer in the process. If you don't own either game, you can grab a demo of Shogun 2 from Steam for no-pennies.
Ensure your screenshot is less than 200 kilobytes in size (or our poor inbox will weep), and mail it here before 6pm Central European Time on Tuesday 27 March. This is a worldwide competition, by the way. Hooray!
Usual rules apply. Here's a trailer to put you in the mood for WAR.