With ice and fire! Dota 2 launches revamped Jakiro
A garbage bag no more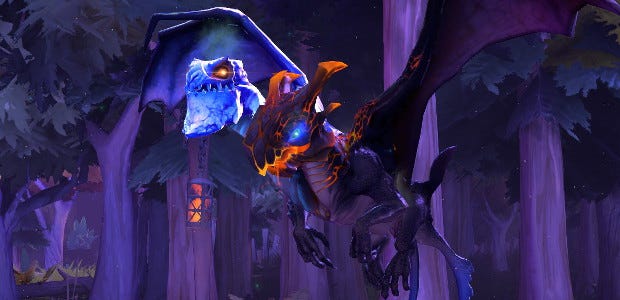 Jakiro from Dota 2 [official site], once thought to be the world's most popular flying plastic bag since that one in American Beauty, has been revealed as a two-headed dragon. Valve yesterday pumped out a Dota 2 update which included the long-promised new model for the support character(s), which makes clear that Jakiro are actually a dragon and not a burst bin bag. Who knew! The new Jakiro mostly follows the same concept, though Blue Head's cute beard o' barbels has become a jawline so stern even Judge Dredd would envy it. Update v7.03 also brought a fair few balance tweaks, and one of those mega-expensive 'Arcana' cosmetic sets for Juggernaut.
The new Jakiro have a more-detailed skin and model with a few style changes, like extending the ice and fire hints their wings and more of their body, adding greebles to the tails, picking up some nice ribbed plating, and tweaking the heads. The old model's body was mostly a tattered black blob. Here, that DotaCinema rabble made a wee video showing the remodel:
I've been fond of Jakiro since their introduction in the DotA days so I'm glad to see this new look. I do miss that barbelbeard but the model's certainly more pleasant overall.
As for ol' Juggie, Richie Rich and his pals can now pick up the 'Bladeform Legacy' Arcana bundle for £27.99/$34.99. As with other Arcana sets, it hugely changes his look with a whole new body and oodles of particle effects.
I'm still not keen on different spell effects and especially not skins which turn an orange fella into a blue fella. It can get confusing if one doesn't studiously follow new skin releases, and confusion is unhelpful in Dota.
Besides, if you play enough Juggernaut to think thirty quid for a Jugg skin is worthwhile, I don't want to group with you. Try support for once. See how it feels to end a game with brown boots still. Buy some god damned wards.
DotaCinema also took a look at Bladeform Legacy:
And for yer full list of balance changes, hit the update 7.03 changelog.