Wook! SWTOR Gives 30 Free Days To Level 50 Players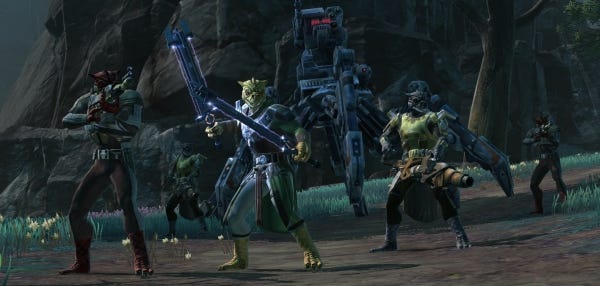 I never play MMOs enough to receive awards. Actually, I do play them, but don't play, so while everyone's grinding and high-fiving over getting level quad-squlllion, I'm jumping up a mountain the wrong way, attempting to find a stray polygon to land on to climb higher and higher. It's important research. So I'm physically shrugging at Bioware's gift of 30 free days of game time to every SWTOR player that's reached level 50. It doesn't affect me in the slightest that my pioneering playstyle goes unrewarded. It might affect you, though, and for that I'm happy and seething with envy for you. It's to drag everyone back into the game to experience the delights of the massive Legacy update. As an extra incentive, they're throwing in a cute little baby Tauntaun.
Enough about the freebies. Here's what the update looks like.

New content includes a new mission, the oddly named "Operation: Explosive Conflict", as well as a new Legacy system that lets you tie your different characters together through a family tree, allowing them to unlock abilities. Unless those abilities include a bouldering skill, or maybe a top-rope buff, it doesn't affect me. Are the huge number of tweaks and new Flashpoint scenario enough for you?