World Of Warcraft Classic launches free for all WoW subscribers in summer 2019
Back to when you could count polygons on your fingers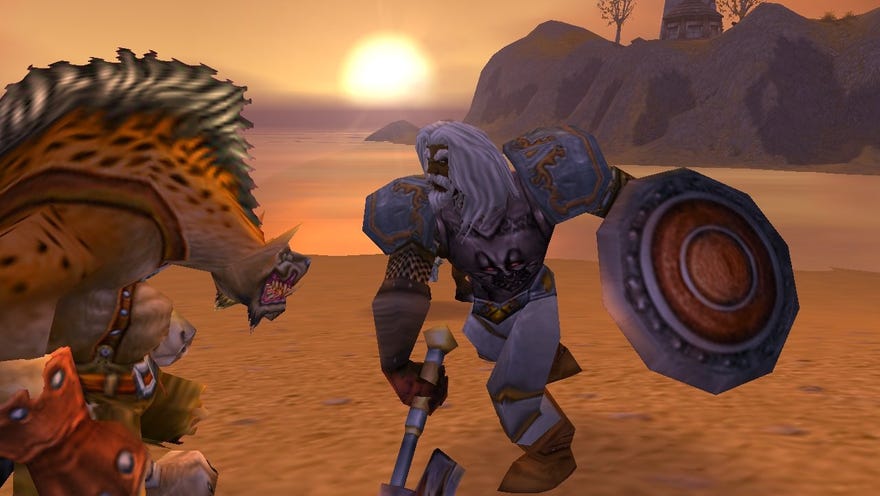 While I bounced off it back in the day, the original incarnation of World Of Warcraft remains beloved by many. Some are even nostalgic for the days of chunky character models and grinding werewolves for a pittance of gold. That, and Barrens chat, although anyone hungry for that is just weird. Today, Blizzard announced that their retro MMO throwback - World Of Warcraft Classic - will be launching next summer. Better still, the polished-up legacy version of the game will be free to all existing World Of Warcraft subscribers.
Previously announced but worth mentioning, those with one of those fancy BlizzCon Virtual Tickets can now play a demo of WoW Classic. Available until November 8th, it starts players at level 15 in The Barrens or Westfall. You'll be able to experience a world before Lich Kings, where Battles For Azeroth were somewhat smaller, and definitely before any Cataclysms. An unsundered world of familiar, blocky old NPCs, quest-lines and simpler class progression. Plus, a far lower level cap. Specifically, WoW Classic is based on Patch 1.12: Drums of War.
Personally, I'm of the opinion that the changes that have come to MMOs over the past fifteen years have almost all been good, but this is great news for those nostalgic for the good old days. Or maybe even those who started with MMOs in recent years and would like to see how things used to be. If nothing else, it's nice to see one of gaming's more iconic touchstones preserved and playable, even if most of us are looking to the future.
World Of Warcraft Classic's demo launches in a few hours on Battle.net, exclusive to Virtual Ticket holders.