Team17 Announce Their Game Again
Sticky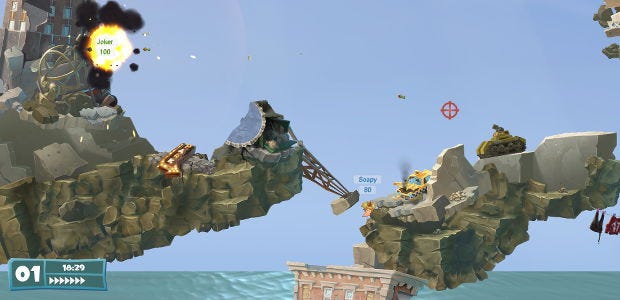 Team17 have once again announced that they're making their game once again and- hey, wait, this latest version of Worms will actually do a few things different.
With over twenty Worms games in the bag and few changes to the turn-based annelid artillery annihilation formula in yonks, Team17 are shaking things up a bit with next year's Worms WMD. It'll introduce concealing buildings, for starters, only granting internal vision to players with a worm inside. Its new art style is pretty cute too. Oh, and it has tanks. Driveable, hopping tanks.
Worms WMD is meant to feel - that nebulous 'feel' of a game - a bit like 1999's Worms Armageddon, Team17 told PCGamesN in their preview. Then it does have tanks too. Worms can take over vehicles by hopping onto them, blasting their mighty guns and moving around a little. Sounds like they're not invincible or overwhelmingly powerful, though.
Buildings offer a little more cover. They're little nests of corridors worms can duck into, which conceals them from every player outside that building. You can pop off shots and they won't know quite where you are.
How does this all work out in practice? PCGamesN and Gamesreactor played it and have written words to relay their experiences. The rest of us will need to wait for its launch in "early 2016."