Cold War X-COM: Xenonauts On Show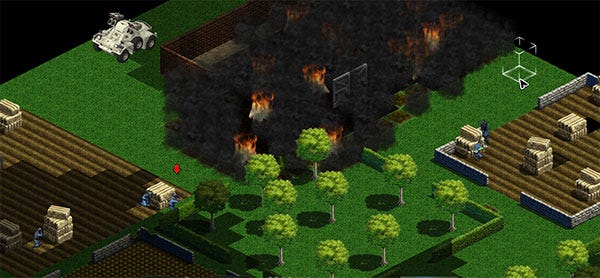 It's been a bit all-quiet for the Cold War-set X-COM reimagining Xenonauts for the last few months, but creators Goldhawk have finally broken cover to show how the major element - the ground combat - looks in action. The answer, you may not be terribly surprised to hear is "quite a bit like X-COM", but clearly that's exactly what we want. Higher res and detail is a fine thing, but it's especially pleasing to see that destructible scenery, something so bafflingly absent from many of the commercial X-COM remakes, is present and correct.

[Click the screenies for larger versions.]
The ground combat reveals comes via a dev diary posted on PCG, which talks through exactly what you're seeing in the various screenshots. New features of note (i.e. stuff not in X-COM) are a directional cover system and an exclusion zone around your landing craft which means you won't suffer half your guys getting immediately slain in the first turn.
Information on stuff like the air combat and inventory, meanwhile, can be found free from an 'Exclusive' tag over on the Xenonauts website. Again, it's in the familiar-but-different vein, clearly trying to create a bespoke look and world despite being definably X-COMy.
We'll hopefully have some hands-on Xenonauts thoughts for you in the not too distant future, but in the meantime you can preorder the game for $30, which as well as helping to fund the game's development gets you access to early builds and features as the team comes up with 'em. All being well, Xenonauts will launch later this year. Now, what the hell's going on with XCOM?