You can grab Battlestar Galactica Deadlock for free this weekend
Free to keep, pay for more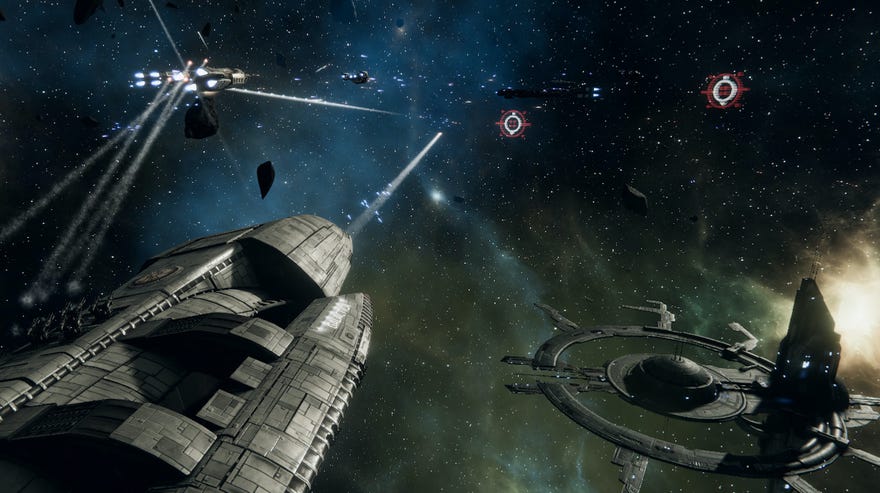 The long-running sci-fi series Battlestar Galactica received a turn-based strategy spin-off a couple years ago. Focusing on the epic space battles alone, Battlestar Galactica Deadlock was generally well-reviewed at its launch in 2017, and it's become increasingly popular in the years since, thanks to hefty post-launch support and a lack of other BSG-related things going on. Luckily, Battlestar Galactica Deadlock is now free to keep on Steam until 6pm BST/ 10am PT/ 1pm ET on April 9th.
Simply head to the game's Steam page, add the game to your account, and ta-da! It's yours. The offer only includes the base game, although all of its paid DLC packs have been discounted by 50%. These price cuts last until April 10th, so you can use the UK's long weekend to try out Deadlock and decide if you'd like more.
The post-launch DLC might be essential to your enjoyment, though. After a year of tweaks and updates for a slightly underbaked launch, RPS wrote that Deadlock deserved a second look due to its Broken Alliance expansion. For a slashed price, the expansions and packs seem like they're worth it. Most of them add new ships and units, features and modes, maps and missions, or sometimes entirely new campaigns to enjoy.
But, if you're a hardened BSG fan, the base game should be enough to brighten up your day, or at least add a twinkle to your space battles. At its launch, superfan Alec Meer (RPS in peace) transported himself to the franchise's golden era and pretended that Deadlock released in 2004-2006. He wrote, "back in 2005 we were delighted to get a BSG that looked exactly how we'd want a BSG game to look." On this basis he gave the definitely '05 game a loveing retrospective, saying, "Deadlock set the standard for BSG games and was never bettered."
Anyway, speed away and grab Battlestar Galactica here. Or you can buy the complete bundle which packages every bit of DLC for £34/€38/$45 - it's usually £94/€108/$124.