Shadery Business: Zineth Released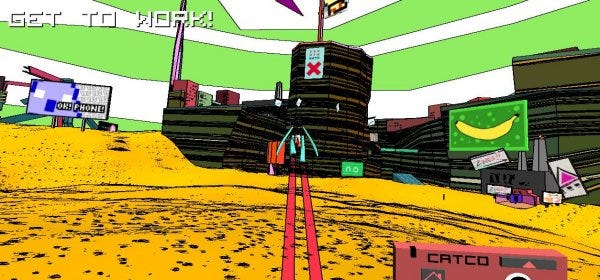 Our eyes popped out of our tiny heads when we saw Zineth's trailer back in May, and it's now out and available to download. I've been having a play with this psychedelic, near-abstract skating game, and I can report: INSAAAAAAAAAAAANE. You skate about in a vast landscape, building up huge momentum for crazy jumps, and do missions that arrive by cellphone. It can be a little tricky to get a handle on the movement physics at first, meaning navigating some of the ramps and jumps isn't entirely straightforward, but that doesn't take away from its peculiar beauty. You probably aren't going to get another freeware (on Mac and Windows) mission-based freeform skating game today, so I would say: DOWNLOAAAAAAAAAD.
There's also a spectacular launch trailer below, to watch if you are trapped on a work machine or something. Go. Go!


That's the stuff.