11-11: Memories Retold teams Valiant Hearts director with Aardman
Remember World War 1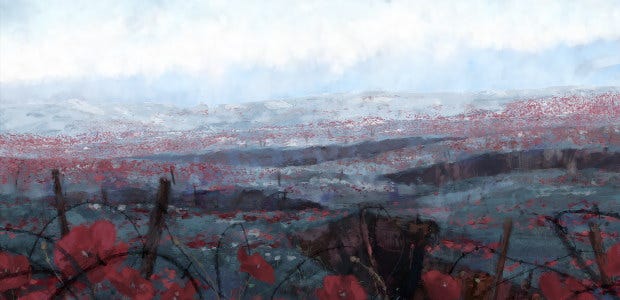 The co-director of Valiant Hearts is diving back into another World War for his next game, teaming up with English animation studio Aardman to make 11-11: Memories Retold. The game's a bit of a mystery for now, but it's set in World War 1, has a pretty painted style of animation, and I'm told will "follow the story of two soldiers brought together in the most unlikely of circumstances." Let's go out on a limb and guess that it's two fellas on different sides who realise the other is human too and war is awful.
"Engaging audiences with compelling stories through animation is at the heart of what we do at Aardman. With this project we want to produce an emotionally rich experience with a distinctive visual identity that reflects the sentiment of this narrative," Aardman co-founder David Sproxton said in the announcement. "11-11: Memories Retold is truly an exciting step for us as it marks the first time that Aardman has collaborated on a game of this scale and we're delighted to see this come to life."
Aardman are the lot behind animated shorts, adverts, and films including Wallace & Gromit and Chicken Run. DigixArt are the French studio co-founded by Yoan Fanise, who was a writer and co-director on Valiant Hearts. It's published by Bandai Namco.
Here's some behind-the-scenes stuff from Fanise, who's directing 11-11 too, which doesn't explain much about the game but is interesting: