30 years after the original, Flashback 2 comes out this November
And a first proper trailer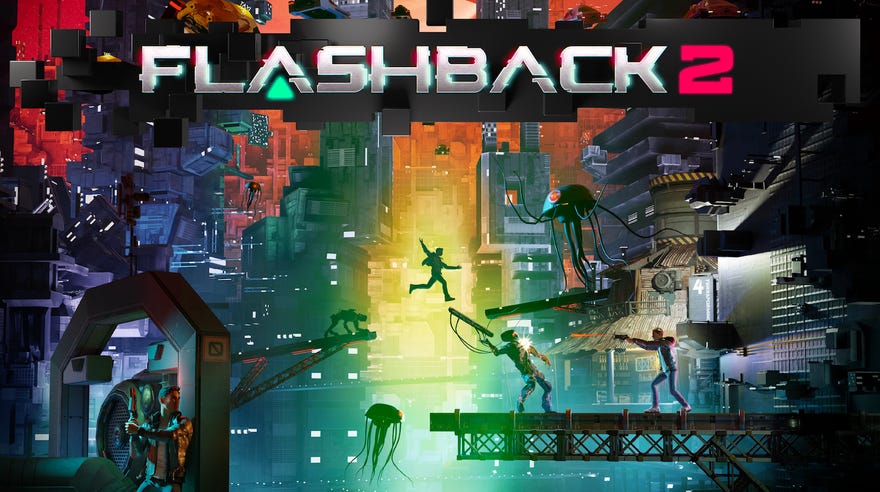 A sequel to 1992's classic action-platformer, Flashback 2 is releasing this November on PC and consoles, publisher Microids have announced. The sequel was first announced a couple of years ago with Flashback's original creator Paul Cuisset in charge, and we finally have our first proper look at gameplay. Take a look at Flashback 2's updated cyberpunk world below.
I'm sure the trailer's voiceover would be very informative for longtime fans of Flashback, but I was just childishly distracted by his long choppy pauses, stressing and destressing every other syllable. They'd make a fine Shakespeare actor, I think. That voice comes from series' hero Conrad B. Hart, as his search for a lifelong friend puts him up against a new Morph invasion.
Just like the original, there'll be plenty of shooting and jumping, alongside a few puzzles to solve. Most of the action still takes place from a side-on view, but this time, 3D environments let you move in all eight directions (woah), meaning there are more opportunities for playful manoeuvring, using cover, and all that fun stuff. Personally, all the neon lights and flashy explosions were giving me flashbacks to Ruiner or The Ascent, which isn't necessarily a bad thing. Apart from that, the team say our AI-powered weapon A.I.S.H.A will return as we fight baddies across New Tokyo, New Washington, the plain old Jungle, and more.
Along with creator Paul Cuisset, some other original developers are back too, such as designer Thierry Perreau and composer Raphaël Gesqua, who sounds like they're doing a good job with the game's thumping synths - because is it really a cyberpunk world without thumping synths?
The first Flashback became beloved for its more realistic approach to platforming and still beautiful rotoscope animations. It's a shame the sequel isn't iterating on that lovely art style since - as far as I can tell - that's what Flashback is more famous for. If you'd like more of that style, a crowdfunded spiritual successor recently released on Steam. Anyway, Flashback received a sequel in the third-person action game Fade To Black, which was apparently not great. Ubisoft then published a Flashback remake in 2013, which was apparently even worse.
You can ignore both of those, though, as the original Flashback is currently just £1 on Steam. There's no price info on Flashback 2 just yet, but it's available to wishlist here.