A Thorny Issue: War Of The Roses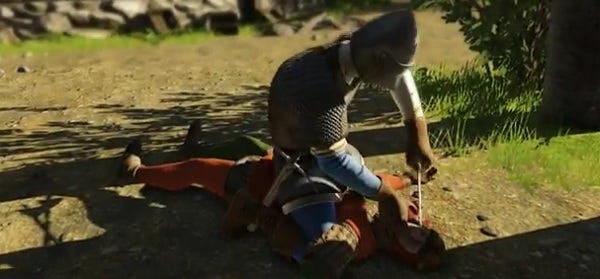 Every time I see War of the Roses it appeals to me more. A multiplayer game that features knights killing each other instead of space marines? Yes, that'll do. And that's knights killing knights, by the way, not knights killing space marines, miraculous as such a thing would be. Here is a developer diary that handily features the developer floating in front of in-game footage, thereby managing to be informative and entertaining at the same time. It's all about ranged combat, with Gears of War cited as an influence, although for its active reload mechanic rather than its chainsaw-guns. Observe.
Here's an odd fact: I captured the screengrab at the top of this post without checking the images we already had of the game. Seems like me and Jim are both amused by rambunctious face-stabbing. The game looks more like a swords and shields team deathmatch affair than the more elaborate and large-scale battle engine I first expected, but it seems like an enjoyable romp regardless.