Adata XPG SX6000 Pro review: A budget alternative to Samsung's 970 Evo
A valuable SSD Pro-position?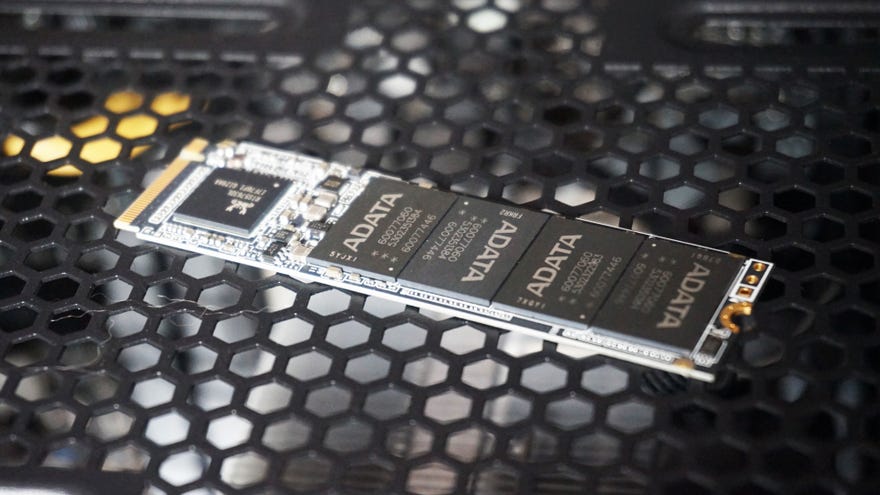 If you're after an NVMe SSD that doesn't cost the earth, then Adata's XPG SX6000 Pro is a tempting budget alternative to the high-end Samsung 970 Evos and WD Black 3D NVMe SSDs of this world. With prices starting at just £57 / $60 for its lowest 256GB model, this is one of the cheapest NVMe SSDs going right now, but is it worth the extra saving over the more expensive Samsung and WD? Let's take a look and see if it deserves a place in our list of best Black Friday SSD deals.
Available in three different sizes - 256GB, 512GB and 1TB - Adata claims the XPG SX6000 Pro can reach sequential read speeds of up to 2100MB/s and up to 1500MB/s write speeds. That's quite a bit lower than Samsung's claimed speeds of 3500MB/s read and 2500MB/s write, but then you're not paying nearly as much for the privilege - at least in the UK.
The problem comes in the form of the WD Black, whose 500GB and 1TB sizes are practically neck and neck with the Adata on price, but way out in front in terms of claimed sequential speed - up to 3400MB/s read and 2800MB/s write for comparison's sake.
In the US, the opposite is true, with the Samsung 970 Evo closer in price to the XPG SX6000 Pro than the WD Black. Admittedly, costs may well be skewed to high heaven with all the Black Friday madness going on at the moment, so hopefully things will straighten out a bit once our collective thirst for deals and discounts has been satisfied in a couple of weeks time.
Needless to say, though, anyone looking to buy an NVMe SSD right now certainly has quite a tough decision on their hands. As such, it's the 256GB XPG SX6000 Pro I'm most concerned with here, as this is where prices for the Adata, Samsung and WD are all currently jostling together in very close proximity.
Admittedly, my initial sequential results weren't exactly promising, as the Adata finished AS SSD's 1GB sequential test with a read speed of just 1438MB/s and a write speed of 1194MB/s. The former is 51% slower than Samsung's drive and 34% slower than the WD, while the latter is 50% slower than the Samsung and 55% slower than the WD, which isn't good at all.
That said, judging an SSD solely on its sequential speeds isn't really fair, as they're never the most accurate way of determining how fast an SSD is going to be in real life. After all, sequential speeds come about when an SSD reads and writes data in nice, neat, adjacent blocks one after the other. What actually tends to happen is that an SSD reads and writes bits of data all over the shop, making random speed tests a much more practical way of assessing the kind of everyday speed you're going to get.
Here, the XPG SX6000 Pro put in a much stronger showing - at least in part. Its random 4K read speed of 25MB/s was still quite a long way behind the competition - 55% behind the Samsung and 45% slower than the WD - but its random write speed of 145MB/s was much more competitive. In this test, it was just 14% slower than Samsung's drive, and a mere 6% behind WD's effort, which is pretty good going.
It's less suited to heavy-duty reading and writing work, once again trailing quite a way behind the competition in CrystalDiskMark's intensive eight-queue-eight-thread random speed test, but as a cheap everyday drive there's a lot to like here. In truth, you're not really gaining much here over a traditional 2.5in SATA-based SSD such as WD's Blue 3D NAND or the Crucial BX300 when it comes to random reading speed (both drives were, in fact, around 2-4MB/s faster when I tested them in the past), but the main advantage of going with the XPG SX6000 Pro is that rather nice random write speed, which the aforementioned 2.5in drives simply can't compete with.
Personally, I think I'd still be tempted to spend the extra £12 / $25 on the WD Black 3D NVMe SSD (or even the extra £18 / $28 on the Samsung 970 Evo) in the 250GB / 256GB category, if only to get that extra read performance. Further up the size chain, though (particularly when you get to 1TB), the XPG SX6000 Pro starts to become a lot more compelling as a money-saving alternative. Sure, you're losing out on read speed, but some may prefer to pocket that extra cash to spend on something else.
Admittedly, it's mildly worrying that Adata seem to be keeping schtum on the XPG SX6000 Pro's endurance rating, as that piece of information might also help swing it in favour of one drive or another. However, at least you've still got a generous five-year warranty to fall back on (the same as the Samsung and WD) if something does happen to go wrong at some point.
As a result, the Adata XPG SX6000 Pro may not be the best around, but its competitive random write speeds are just enough to recommend it if you're looking to keep costs down. It's a tougher sell at smaller sizes, with either the Samsung 970 Evo and WD Black 3D NVMe SSD offering better value for money depending on where you happen to live, but those of you after a lot of storage for not a lot of cash would do well to keep the XPG SX6000 Pro in mind the next time you're in need of an upgrade.