Aion Flying Free: F2P From February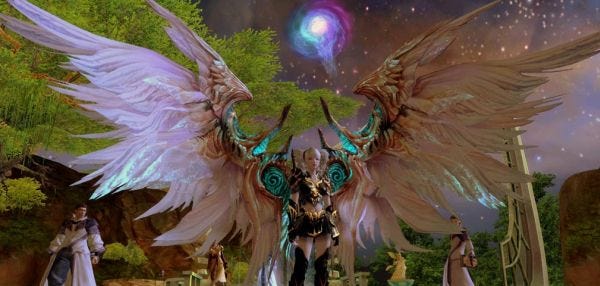 The next MMO making its inevitable way to being free-to-play is NCsoft's Aion, the flying game that does its best to never let you fly. Come next February and you'll not need to pay to get into the game, via the powers of Gameforge. This is, say Eurogamer, NCsoft's plan to "boost player numbers in Europe". In other words, people aren't playing the disappointing Western incarnation of the MMO, and they want to reawaken the servers. And this is a long-proven method.
Of course, there's no such thing a free launch, and there will be opportunities to pay for things. For instance, there's a Gold Package which will secure you everything in the game, along with "bonuses". In other words, you'll level faster, as well as have shorter queues for instances and better loot. But they promise these are only time saving measures, and won't imbalance things.
Those who already had subs will become Veterans, even if their sub already expired. You'll get the whole game, forever, just for having ever subbed. Not bad.
In fact, non-payers will have all classes, areas, quests, equipment, individualisations, professions and PvP. So what don't you get?
"To protect our players against bots and gold sellers, several game options such as chat and trading will be restricted for starters."
Other than that, it really does just seem to be a slower XP climb. People who've already paid beyond February will be refunded, so it's worth chucking in any pre-paid codes you may have now, as they'll be useless after the switch from NCsoft to Gameforge.
Unfortunately the idiotholes have put their promotional advertising trailer for this news on their site in an unembeddable format.