All The Trespasser Mod Remake News That's Fit To Post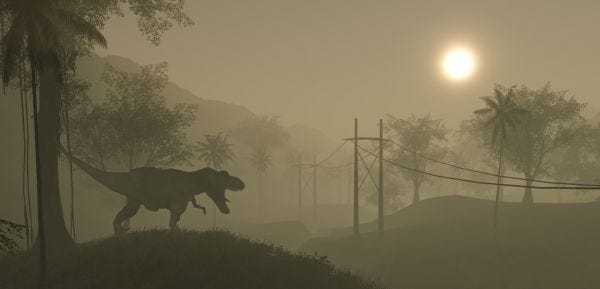 "Welcome to the Annual General Meeting of the Jurassic Park: Trespasser fan club. President, Secretary, Treasurer, Masseur, Taxidermist, Milliner, Doorman, and Shark Tank Cleaner Craig Pearson presiding. Raise your copy of Trespasser in its original packaging when I call your name. Craig Pearson? Yup. We're all here. I called this AGM to discuss all the goings on in the Trespasser community... Well, thanks for coming. See you next year."
*Sound of door slamming open, wind and rain whips into the room, Craig stumbles in*
"Craig! You came out and back in again to make a dramatic entrance! Sit down and tell yourself what's up."
"It's alive..."
*Sound of cliffhanger*

So, Trespasser. The game that was supposed to be this, but ended up being this. It wasn't very good [it was brilliant], and made people sad [with joyhappies]. It had its moments [it had all the moments], and it some people genuinely remember it with some fondness [I love it].
I have proof of that. I discovered a couple of mod projects this morning that made my heart tattoo pump with pride, via the Reddits. One-man efforts to bring that stupidly ambitious game into the now. These mods are also stupidly ambitious.
First up was a video of the opening of the game remade in the Cryengine. I soon discovered it was made in under four hours as a test by the developer, which means it's not a full mod. That made me sad. Have a look, if you can see through your teared-up eyes.
Not bad for an evening's effort. I was then overjoyed to hear that, despite this being a test, the developer is actually working on a full remake! He's using the less-shiny Unity engine, but his progress there is somewhat laggily encouraging. Hear me, sir. I AM ENCOURAGING YOU!
He has a rival, though. The Cryengine 2-based Trespassing mod that also seeks to rebuild Isla Sorna. The raw power of the Cryengine 2 gives it a real edge in the polygon department, but there's no moving footage. Only images that make my bottom-lip quiver. I should really be a bit more pessimistic, but today is a good day. I am alive, I am older and wiser (did I mention it was my birthday), and there's a game out there that looks like this.
His Flickr stream a terrifying look into my brain.
Life found a way.