All You Need Is Lave: Elite: Dangerous Commentary Trailer
This is dangerous.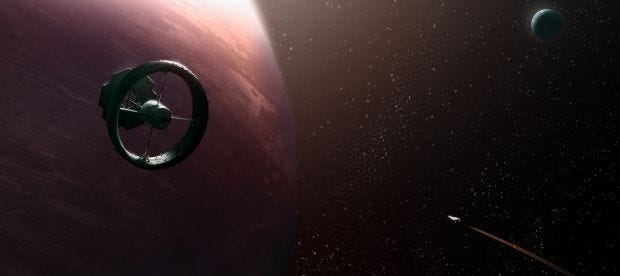 I quite liked the previous Elite: Dangerous trailer, but even with my rose-tinted cockpit view activated it was obvious that there wasn't a hope on IO that the game would look like that. It was one of those in-engine trailers that makes everything look whizzy and zoomy, but everything is following a pre-determined path. Frontier is admitting as much in the latest developer diary, which has David Braben gabbing over the trailer, talking about what's real and in-game, what they fudged, and how useful the trailer has been in visualising the full game. So if you want to watch it a second time, but with Uncy Dave talking over it like a game development Jackanory, then it is below.

I came for the technical confessionals (adding in lens flare? You fiend!), but hung around for the details. I probably shouldn't care that the spinning toroid in the Imperial cruiser is there to give some of the more important members of the crew a sense of gravity while they sleep, nor should it matter to me that in comparison the Federal capital ship is more utilitarian. In the grand scheme of things, they're only details that I'll be whizzing past in space. But I do care that people think about such things, because it means if they're thinking about it, then a lot of the world is going to mean something, and I'll hopefully be able to affect it. It'll also make for great screenshots.
Sigh 2014 sigh.