AMD's AM4 motherboards get a mid-range face-lift with new B450 chipset
A tempting option for enthusiast AMD builds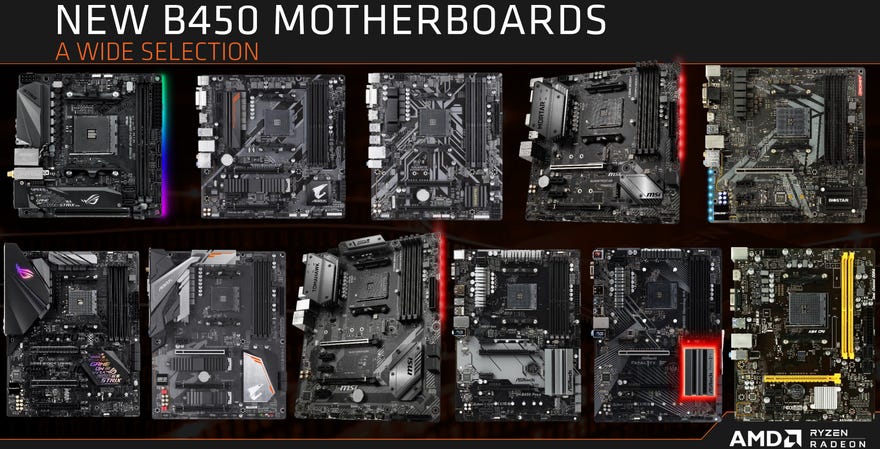 When AMD launched their 2nd Gen Ryzen+ CPUs earlier in the year, they made a pledge that their AM4 motherboard sockets would continue to receive support until the year 2020. To that end, AMD have just announced a brand-new mid-range chipset for AM4 motherboards, the B450. Read below for the full low-down.
Effectively an updated version of the B350, the B450 chipset will support exactly the same range of processors as before, starting from the cheap as chips AMD Athlon CPUs and 7th Gen A-Series APUs all the way up to this year's Ryzen+ processors. Naturally, the B450 chipset has been optimised to get the most out of AMD's Ryzen+ processors, but it should also give older AMD processors a welcome performance boost as well. For more information about what CPUs go with which motherboards, check out our motherboard / CPU combo guide.
What makes this chipset particularly attractive, though, is that it shares a lot of the same features as AMD's high-end X470 chipset, including unlocked CPU overclocking and RAM overclocking (this is something Intel only offers on their more expensive motherboards and K series Coffee Lake CPUs), six SATA ports and two SATA Express connections, as well as CrossFire support for running two AMD graphics cards simultaneously. The latter wasn't previously available on the old B350 chipset, making it a tempting option for those after a multi-AMD GPU system without breaking the bank. Those after SLI support for running two Nvidia cards, however, will still have to look towards the X370 or X470.
Still, another nice coup you get with the B450 chipset is that it comes with AMD's StoreMI storage acceleration tech as standard, which combines your HDD and SSD into one giant, super-fast drive. Previously, this always cost extra when buying a 300-series AM4 motherboard like the B350 or X370, but now AMD are now bundling it in for free with all 400-series chipsets going forward.
This is great news, as it means you don't need to worry about buying expensive, high-capacity SSDs to get the best storage performance anymore, allowing you to save money and get more out of the existing HDD / SSD combo that's already in your PC. It does this by combining your drives into one jumbo storage device, automatically moving your most used files to your SSD, while keeping everything else tucked away on your HDD.
It adapts to your file usage over time, too, so if your passion for Plunkbat starts to wane in favour of something else, for example, StoreMI will shunt those blocks of files over to your HDD and put your new go-to game on your nippy SSD - all without you having to do anything at all.
I don't have any pricing information just yet, but all the usual motherboard manufacturers will have B450 boards arriving very shortly, including Asus, Asrock, Biostar, Gigabyte and MSI.