AMD confirm AM4 motherboards will be supported until 2020
All aboard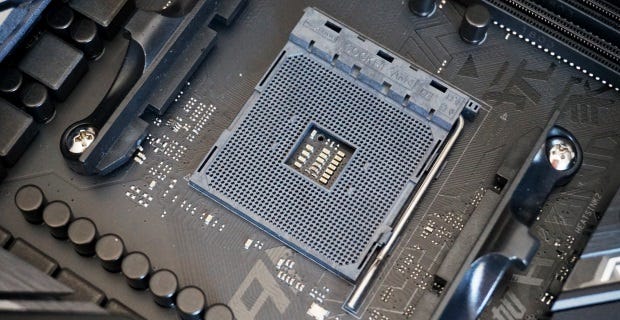 After months of murky rumours, vague interview statements and subsequent but equally unclear clarifications, AMD have confirmed once and for all that their AM4 motherboard platform will continue to receive support until the year 2020. This will come as excellent news for existing Ryzen users and incoming Ryzen+ buyers, as it means that any potential new motherboard purchase isn't about to go the way of every other tech purchase these days and be made redundant in six months. Good times.
First introduced at the tail end of 2016 with the release of AMD's Bristol Ridge APUs, AMD's Socket AM4 standard now supports four different families of AMD processor, with hopefully more to come, the CPU giant has said.
Not wanting to toot their own horn or anything, but in a briefing on the launch of their new Ryzen+ CPUs, AMD said that this kind of long-term platform support is "unprecedented in the history of desktop computing, and we want that socket to continue forward to 2020 and support even more families of processors down the road. This is a tremendous achievement that we're proud of, to have this very flexible, user-friendly, upgrade-friendly ecosystem out there, and we're making it even better."
There are currently over 100 different types of AM4 motherboards out in the wild right now, scaling from mini-ITX boards all the way up to extended-ATX models. Within the AM4 platform, there are also numerous different chipsets that determine what kind of features you'll find on each board and how they'll perform overall. If you bought one of last year's 1st Gen Ryzen desktop processors or the recently released Ryzen 3 2200G and Ryzen 5 2400G with integrated Vega graphics, you'll probably be most familiar with the B350 and X370 chipsets.
However, AMD are introducing another chipset today, the X470, to help users get the very best out of their new Ryzen+ processors, particularly the Ryzen 7 2700X, which has a thermal design point (TDP) of 105W. Most X370 boards are capable of coping with this TDP as well, but the benefit of going with the X470 is that it comes with free, built-in AMD StoreMI acceleration tech.
StoreMI essentially combines the speed of your SSD with the capacity of your hard disk into a single drive, allowing you to load games and applications on your HDD at SSD-like speeds. It's a bit like RAID, in that all you'll see in Windows is a single drive with the combined capacity of both drives, but StoreMI optimises everything at a block level, allowing it to migrate your most-used blocks to the fastest bits of storage, and you can also add 2GB of DDR4 RAM cache on top, too, if you're that way inclined.
StoreMI can also be uninstalled or upgraded at any time, and you don't need to faff around with formatting or partitions, either, as everything's done automatically without having to be installed through Windows. All you need is a SATA, NVMe or 3D Xpoint SSD with a capacity of 128GB, and you're away.
This will be particularly great news for those who have spent many hours looking longingly at 2TB SSDs, or even the highest capacity drives on our best SSD list, without the funds to buy them, as StoreMI effectively gives any HDD the same kind of read and write speed as the SSD you end up pairing it with. You won't start seeing that jump in speed straight away, mind, as the acceleration tech will need a bit of time to identify those most-used files and learn where to put them. Once you've gone through that process, though, say hello to your new jumbo SSD-like storage.
Likewise, unlike older AM4 chipsets, the X470 will have day-one support for Ryzen+ (and the Ryzen Vega APUs), so you won't need to upgrade your BIOS beforehand or go through the hassle of trying to get hold of an older AMD processor to make sure it's compatible. Some older 300-series boards may still let you drop processors in straight away, though - you'll just need to make sure you look for a badge on the box declaring it's 'AMD Ryzen Desktop 2000 Ready.' Otherwise, existing AM4 owners will need to perform a BIOS update, which is available to download now from AMD's support site.