Asus unveil new series of Arez AMD RX graphics cards
Brand spanking new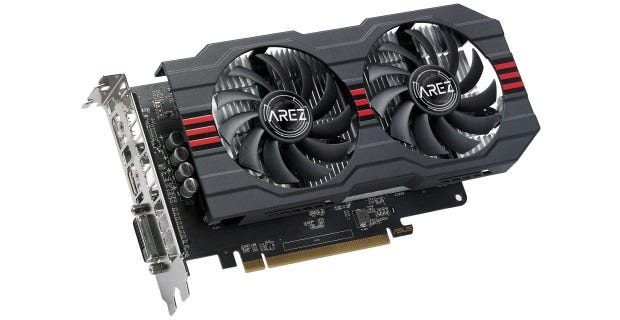 Brands. I love brands. Especially new ones, because they make things so much easier to understand among all the other brands. I am therefore incredibly excited about Asus' new AREZ brand for their AMD Radeon RX graphics cards, because ROG, STRIX, TUF, Turbo, Dual, Expedition, Phoenix and Mining just weren't brandy enough.
This one, you see, is named after the Greek god of war Ares (no, not that God of War), and features new and improved 'superior cooling technology and a robust software ecosystem'. Because that's what Greek gods of war are all about now, apparently.
In all seriousness, though, what's special about Asus' new Arez AMD graphics cards is their MaxContact GPU cooling tech. Thanks to its copper heat-spreader that sits in direct contact with the GPU, these cards should have significantly improved thermal transfer, allowing them to run cooler for longer and keep your games nice and smooth. Some Arez models will even have heatsink areas that are 40% larger than Asus' previous dual-slot designed cards, allowing for even cooler and quieter operation.
Could this be enough to push the AMD Radeon RX 580 to the very top of our best graphics card list for 1440p gaming? Only time will tell, of course, but on paper it certainly looks promising, especially when each Arez AMD card will also have IP5X-rated dust-resistant fans for increased reliability when they inevitably get clogged up with gunk after being stuck in your case for six months.
The specific 'wing-blade' design of these fans also allegedly lets them run up to 3x quieter than other non-wing-blade fans. Combined with Asus' so-called 0db tech, which stops the fan completely when the GPU temperature is below a certain level, you might even be able to game in complete silence if you're lucky.
Speaking of cutting down noise, Asus has also confirmed that each Arez graphics card will feature components that come from the brilliantly named Super Alloy Power II brand/whatever you want to call it family of PC innards. These are said to improve efficiency, reduce component buzzing by 50% when under load and allow for thermal levels that are 50% cooler than other designs that focus on quality and reliability, according to Asus.
Meanwhile, the 'robust software ecosystem' part of the Arez brand comes in the form of Asus' newly-redesigned GPU Tweak II program, and the latest support for AMD's own Radeon Software Adrenalin Edition drivers, including Radeon Chill, Radeon Wattman and Radeon ReLive.
If all that sounds just too exciting to ignore, then you'll be pleased to hear that all Arez-branded AMD cards, ranging from the flagship Radeon RX Vega 64 right down to the entry-level Radeon RX 550, will be available starting from May 2018 (next month). Hooray for more brands!