American Truck Simulator heads up north to Oregon
Beaver Knows Best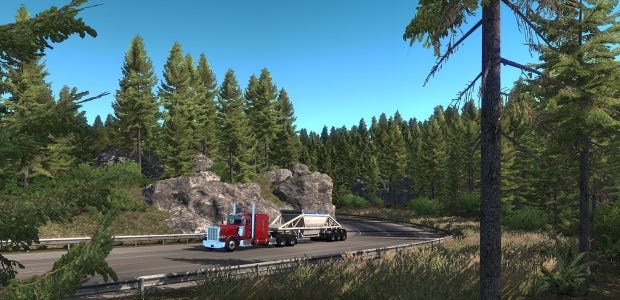 Ah, the American North, where the trees are tall, the roads are winding, and everyone feels just that little bit more relaxed, being closer to Canada's soothing influence. It's just a scientific fact; look it up.
After teasing it for a time, SCS Software have announced the next expansion for American Truck Simulator, latest in their freight-driving sim series. This time, you're headed to the Beaver state, up to Oregon, in search of the fortune that the logging industry of such a green and lustrous land might bring.
It's nice that SCS are keeping up the variety of the game, at least. The previous expansion was set in the deserts and scrublands of New Mexico, so heading to the wetter, greener, significantly more mountainous climes of Oregon should be a refreshing change of pace, and a significantly greater investment in your attention to navigate.
This is very unlikely to be the last expansion for the game. According to SCS, the American Truck Sim team started out as a humble 4 people and is now a respectably sized 40-developer crew. Hats off to the studio for finding a niche that nobody else could have predicted would be so huge and sticking with it until the game became a regular fixture in the Steam sales charts.
No release date or price tag has been assigned to the Oregon expansion, but at least we know it's coming, and if it's anything like the New Mexico expansion, you're probably looking at putting down £9/$12 for the privilege of carrying digital wood through the forests.