Anno 2205 Shows Modular Buildings And Moon Colonies
Ahead of next week's release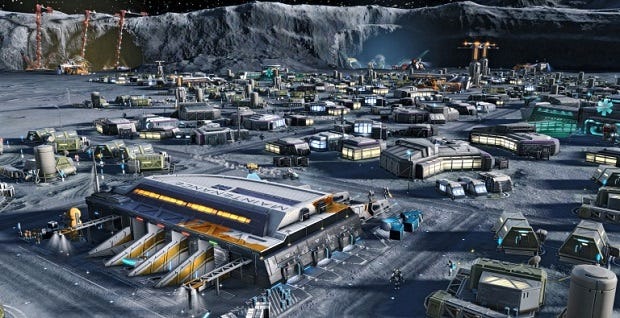 I haven't played an Anno game since it was a series about building quaint trading colonies in the 18th century, and so I'm quietly impressed by these videos of Anno 2205 [official site]. Not because it's set in the future in which you build moon colonies and ferry goods with spaceships, but because its landscapes look so big and pretty. Step below and learn about some modular buildings, sure, but also just look at the vast metropolises.
The latest trailer is part of a series detailing the game's new features, and this one focuses on the brand new ability to expand existing buildings in order to increase their capacity. This might take the form of adding new wind turbines to an existing power plant instead of simply building an entirely new one. It's a feature that's been in other city building games for a long time, but now you get to do it with futuristic wind turbines.
The previous video in the series is perhaps more interesting, given that it deals with your ability to expand your trading colony beyond the borders of planet earth and onto the lunar surface. You'll have to deal with different environmental issues depending on whether you're building among conifers or the dusty dunes of the Moon, and our Duncan had a fun time with the amount of micromanagement required to run multiple colonies when he gave the game a go earlier this year. He wrote:
"If you're the type of gamer that loves micromanagement (and I very much am) then you'll find this sort of fiddling pretty satisfying. During my half-hour with the game, I had a fun time trading the needs of my residents off against the need for more residents. Thanks to a much larger city available to trade with nearby, many of the obstacles to rapid growth were easily hurdled and I hit what appeared to be the 'endgame' of the sandbox within that half-hour."
Anno 2205 is due for release next week, on November 3rd. We should have a review up there or thereabouts.