Another Fine Messi: Fifa 13 Demo Out Now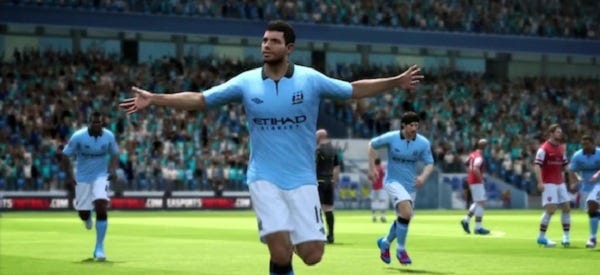 I thought I'd have a kickaround on the Fifa 13 demo so that I could actually sprinkle the pepper of opinion upon the scant sliver of information in this post. Sadly, it doesn't work for me and I don't know why and don't have time to correct the issue. The Fifa 13 demo is now on Origin. It probably has new animations for celebrating goals, maybe even a Usain Bolt type thing to try and bring all of sport together, unless there's a license to pay for that particular pose. Now I've made myself a little glum by imagining/realising that it's possible to copyright a pose.
For the demo, the teams included are Manchester City, Arsenal, AC Milan, Juventus and Borussia Dortmund, and doubling up on the last gasp champions of England, the Etihad is the stadium of choice. As for the full game, the things I'm most interested in are international tournaments and qualification, and the presence of a song called 'Sweet Sipping Soda' on the soundtrack. Never heard it, just like the name. I'll probably enjoy the game as much as ever (quite a lot) but I'm tempted to try out PES this year as well.