Sing it! BioWare show Anthem's E3 demo to us all
My dad is bigger than your dad, he's got eight cars and a house in Ireland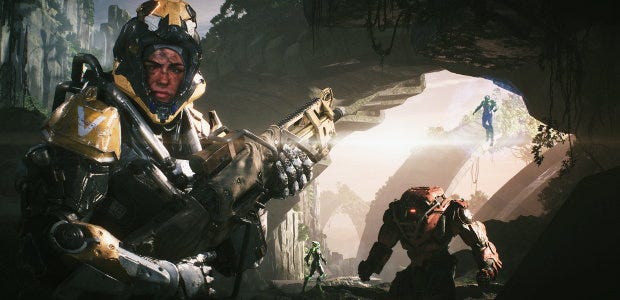 BioWare took a hunk of Anthem to E3 in June in a gameplay demo, then only showed it behind closed doors to press. But now summer is here, they've flung open the doors to get a breeze going and oh ho! The fools! Now we can walk right in and see that demo for ourselves! No longer must we read our Brendan's impressions of the demo, we can just watch the 19-minute choreographed and narrated demo as Iron Spacemen stomp and fly around an alien jungle, listen to robots say sci-fi words, shoot alien arthropods, and, I quote, "focus on the weak points to cause massive bonus damage."
Here's lead producer Ben Irving to talk us through the E3 demo, where four players take on a mission which is named 'Scars & Villainy' but seems to be more about fighting a giant enemy crab:
What do you make of that? Here's what Brendan made of it:
"Yes, the bullet-sponginess and number-hosing of Destiny is strong with this one, or seems to be. Much of the 'hands-off demo' I saw only confirmed that Anthem is closely following the template set by Bungie's shared-world shooter. Drop into a fantastical universe and get suited, booted and shooted with friends, all while a story happens in the periphery. During EA's press conference, the developers enthused that story was more important to Anthem than simply offering background to a series of dungeons. But the dialogue of the cutscenes and chatter during the mission itself suggests that it again follows Destiny, right down to the impenetrable lore nonsense and silly nomenclature. It's still not clear what an 'Anthem' is."
Anthem is due to launch on February 22nd, 2019. It's coming via Origin, priced at £55.