4X Argy-Bargy: Run A Thieves Guild In Antihero
Eating apples and pears - robbing wealthy heirs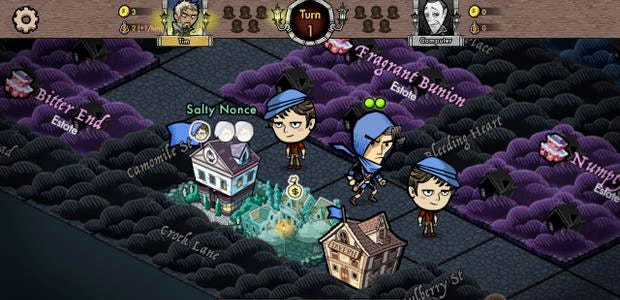 Space war, fantasy war, and history war - those are your three standard settings for a 4X game. You can fight aliens, fight elves, or fight Kaiser Wilhelm II. Pssh.
Treat your exploring, expanding, exploiting, and exterminating eyes to another peek at Antihero [official site], an upcoming 4X strategy game about running a thieves guild in Dickensian Notlondon (I'd forgotten it exists, so maybe you did too). Before I pulled the thistle crown of RPS Senior Scottish Correspondent from Cara's QUITTER fingers, I served as RPS East End Guvnah, and I can confirm it's awfully accurate to a life of dodging, weaving, ducking, and diving.
Tim Conkling's apples and pears 'em up will have you trying to take over a city of places like Goodge Street, Bitter End, and Bumford (can confirm: all real places) by building up a thieves guild. You can recruit units like urchins, spies, master thieves, thugs, and assassins as you try to rob, strong-arm, blackmail, infiltrate, and generally deal with people. In typical 4X way, you can go violent or play polite, as you please.
Along with a single-player campaign, Antihero will have asynchronous multiplayer supporting cross-platform play with the pocket telephone versions. On PC, it's coming to Windows and Mac in "early 2016". Here, peep this: