Arkham Horror: Harley Quinn's Revenge DLC TBC On PC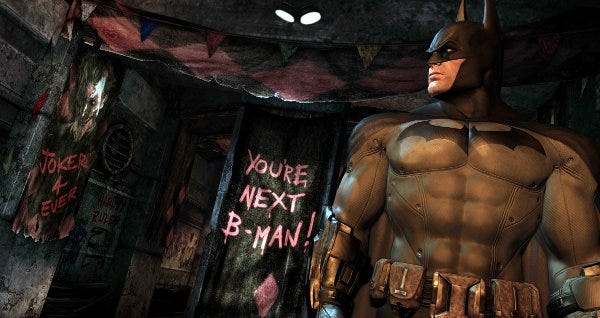 Revenge is a dish best served cold - or at least lukewarm, in this case. On the upside, Batman: Arkham City's story-concluding DLC-based chapter is en route to PC, Warner told Eurogamer. That, however, is where things take an almost amusingly convoluted turn into asylum-worthy madness. So, first off, the PC version of Arkham City: Game of the Year Edition - to which the DLC's launch is tethered - has no release date beyond "TBC." The console versions, meanwhile, appear to have had their releases scheduled by Warner's executive VP of wearing a blindfold and throwing darts at things. In the US? May 29. Fair enough. Everywhere else, though? September 7 - just in time to get totally buried in the holiday game avalanche. If the PC version follows release tradition, that could see it swinging in to save the day well after the nick of time in October. Catch an incredibly brief glimpse of the DLC in action after the break.
So that's fun. Apparently, "each of the territories determined the best time to release Batman: Arkham City Game of the Year Edition" and "the territories outside of North America felt that September was best." I haven't the foggiest idea as to why - especially seeing as that'll be long after Dark Knight Rises revives Batmania the world over. Batman himself has a brilliant brains-and-brawn backup plan for every conceivable situation. I get the feeling, however, that we can scratch Warner Bros off the list of "who's really under Batman's mask" suspects.