Rocksteady Fess Up To Unsteady Arkham Knight PC
"resolved as quickly as possible" etc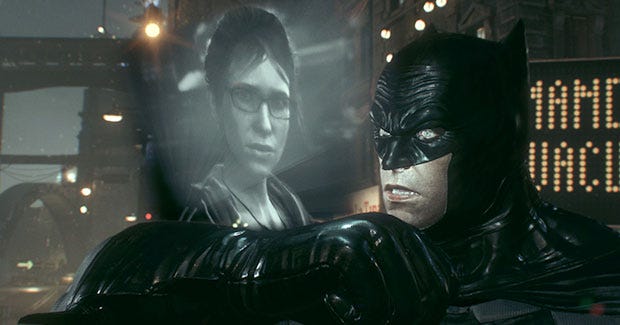 Batman: Arkham Kerniggut [official site] is, by all accounts, a pretty good videogame with a pretty shonky PC port. Everyone on RPS who's tried it has had framerate issues of varying degrees - I think I got off lightest, but my FPS is still all over the place to the extent that I'll probably shelve it and wait for a patch or driver update - and the internet's very much doing its internet thing about it. At least devs Rocksteady have now 'fessed up to there being problems with the release build, though reveal that an "external PC development partner" is involved.

Once upon a time, that's the kind of phrase I'd presume implied Spotty Ian In QA Who Knows A Bit About Graphics Cards, but big publishers do take PC gaming pretty seriously again these days, and it is indeed a third-party studio. Chicago-based 'Iron Galaxy Studios' are listed as bearing some of the PC weight in credits, and they're a work-for-hire outfit who often specialise in ports. One of which was Arkham Origins, which didn't suffer from any particular performance issues, if I recall correctly.
Rocksteady's community manager had this to say about the kerfuffle:
"We're aware that some users are reporting performance issues with the PC version of Batman: Arkham Knight. This is something that Rocksteady takes very seriously. We are working closely with our external PC development partner to make sure these issues get resolved as quickly as possible."
There's no further detail on exactly where the fault lies or who's being blamed for it (another possible culprit is Nvidia's Gameworks/PhysX features, which don't play all that nice with AMD cards nor, it seems, with many Nvidia cards right now) and nor is any timeline for fixes given. "We'll update this thread when we've got more info to share" is the best we've got.
Given the game will run some max-settings scenes at 60FPS - and looks spectacular when it does - I feel reasonably confident that this'll get sorted out, but you never do know. I think the game could do with a few more options in its settings menus to help people find their own sweet spot too, but even in the unlikely event that does happen it's probably much further off.
Meantime, I'm sure lots of people in suits are currently yelling at each about this whole mess, rather than the astronomical consoleland scores, currently being the story of WB's biggest games launch of the year.
Here's a video John made of the game running on his meaty AMD card: