Arma 3's Apex Expansion Now Exploring New Lands
100 km² of tropical archipelago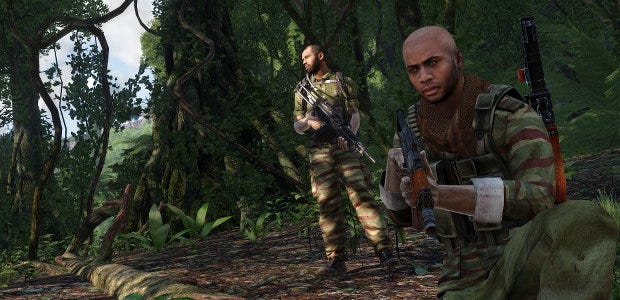 Arma 3 [official site] has jetted off on its summer hols with the launch of its Apex expansion today. Apex sends those surly soldiers to the sunny South Pacific to adventure on the tropical archipelago of Tanoa. Naturally, they've snuck a few fun toys into their luggage - one can hardly hit the beach without a thermal-masking uniform. A big update launched aside Apex too, with changes for all Arma 3.
Tanoa is 100 km² of tropical island to explore, with everything from cities to sugar cane fields. Apex adds new factions including the local gendarmerie and the criminal Syndikat, thirteen new weapons from classic to high-tech, new gear, ten new vehicles including water scooters and VTOL aircraft, and oodles of Arma 3 kit painted up all tropical-like. Lots of things.
Also out today is update 1.62, which brings an overhaul of the revive system, tweaked environmental sound effects, and... look, an awful lot. Check the changelog for full details on everything.
Arma 3 Apex is out on Steam for £24.99/29,99€/$34.99. Or for folks coming fresh to Arma 3, the Arma 3 Apex Edition includes the base game and all DLC for £44.99/59,99€/$69.99 - a fair discount.
Anywho, have a gander at those lads larking about in Apex's launch trailer: