Claymation Adventuring: Armikrog Released
Squidgy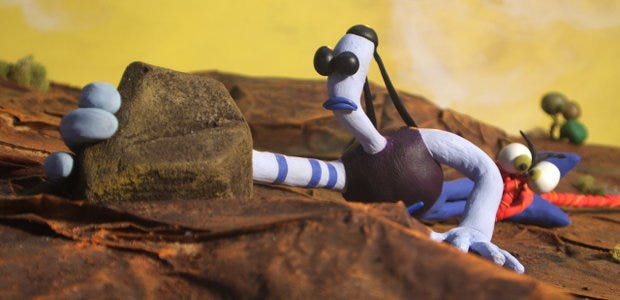 Armikrog [official site] is more than onomatopoeia for a belter of a burp, it's the first game in yonks from Earthworm Jim and The Neverhood chap Doug TenNapel. It was Kickstarted in 2013 as the "spiritual successor" to The Neverhood, offering more claymation adventure game jollies, and has today finally launched - only a year and a bit behind schedule.
Here, check out some of its squidgy pretties and boingy noises in this here new trailer:
Right then! Armikrog is the name of the fortress where space explorer Tommynaut (voiced by MST3K's Michael J. Nelson!) and his talking alien dog are trapped after crash-landing. How oh how will they ever escape? Classic adventure game puzzling, of course. Don't worry: there are jokes and silly noises and puppets along the way.
My personal patience for '90s adventure gaming may have ebbed years ago (I groaned when I saw a rotating Towers of Hanoi-ish thing and a colour-mixing puzzle), but that's fine - almost one million dollars on Kickstarter show plenty of folks still want it.
Armikrog is available for Windows, Mac, and Linux from Steam, GOG, and others. It's cheaper on GOG, where a launch discount makes it £17.19 and, in the UK at least, you'll get a few quid in bonus store credit to offset regional pricing differences.