Assemble With Care fixes up a spot on PC today
Break and re-make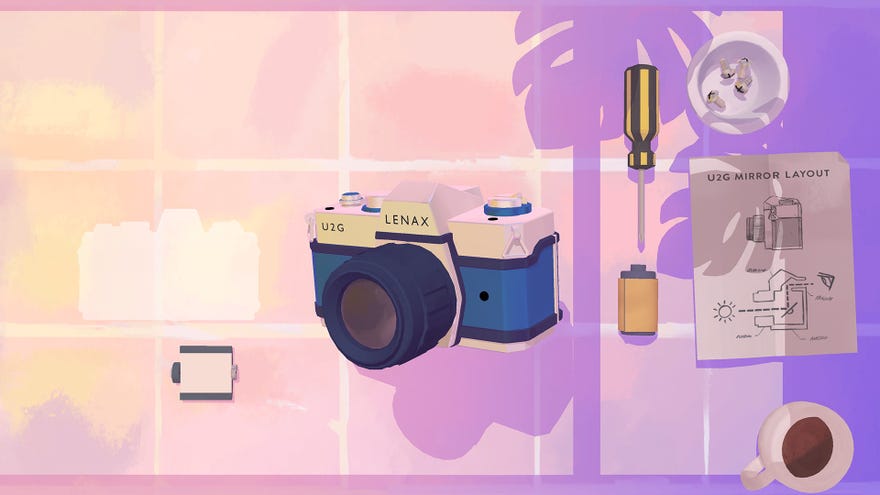 What's your self-isolation hobby? Knitting? Woodburning? How about taking up antique restoration with Ustwo Games' repair 'em up Assemble With Care? Six months after breaking onto Apple Arcade, the Monument Valley developers' pastel-tinted restoration puzzler arrived on Steam today. After all, who knows more about the satisfying agony of repeatedly re-assembling complex electronics than PC owners?
After exhausting the puzzle possibilities of non-euclidean rotations, the latest game from mobile moguls Ustwo hit iPhones last September. Setting up shop in a quaint Italian town, Assemble With Care sees you repairing broken old gadgets, bathed in the developers' familiar palette of pastel blues and pinks.
Assemble With Care offers up a bounty of old tech to take apart and piece back together. There's a wonderful physicality to each of the game's 13 devices, vividly-rendered components clacking together without any of the awkward fudging that comes with, y'know, actually piecing together broken old kit.
'Course, there's a fanciful story suggesting that not only are you repairing gizmos and doodads, but the hearts and minds of the broken folk who bring them into your store. Our platform-agnostic sister-site Eurogamer, however, reckoned it really sings as a "study in the wordless pleasure of fixing stuff". That narrative framing is fine enough, but taking apart clocks and radios and cassette players? That's the good stuff right there.
Now that Ustwo have finally made footfall on PC, how about bringing over those Monument Valley games eh? I reckon some warm, Escher-esque isometric puzzling would do pretty well on a screen larger than my pocket.
Assemble With Care is out now on Steam, with a 15% launch discount bringing it to £4.92/€5.60/$6.97.