Back In The Day(tona): The 90's Arcade Racer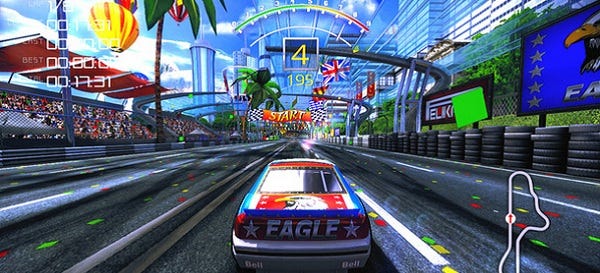 With a name straight from the same Tin O' Titles that Braithwaite and Hall dug into for their Old-School RPG, 'The 90's Arcade Racer' is a Kickstarter project inspired by the likes of Daytona USA and Indy 500. As is traditional in racing games, cars wot go fast will attempt to outdo one another but the nineties heritage means there will be blue skies above, aquariums at the side of the track and animatronic dinosaurs looming overhead. The funding will help to improve car handling, as well as providing time to complete two more tracks to add to the one that is already completed. Video below.
It's a different nineties to the one I lived through, that's for sure. Replace blue skies with grey, and exuberant whales with Noel Gallagher's eyebrow for my experiences. Oh, and the car? A Fiat Panda Super, possibly the only vehicle I could have owned that made having a set of wheels less cool than journeying from place to place on an undersized tricycle.
The Kickstarter has had a strong start, with 27 days left and over two thousand of the required ten thousand pounds already pledged. Ten quid is the minimum tier that provides a copy of the game at launch, and there's a choice of PC, Mac or Linux. Completion is expected in November.